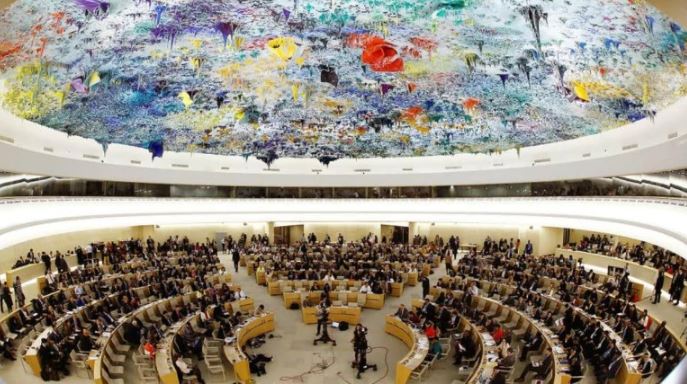 India on Tuesday (September 10) turned down Pakistan's charge that human rights was being trampled in Jammu and Kashmir, saying that the world know the narrative comes from the "epicentre of terrorism".
Pakistan had earlier in the day claimed that the people of Jammu and Kashmir were living in a "caged prison in this plant" since the special provisions of the state were revoked with the abrogation of Article 370 on August 5.
The country's Foreign Minister Shah Mehmood Qureshi had also said that basic human rights of the Kashmiris are being trampled with impunity by India.
#WATCH live from Geneva: Secretary (East) MEA, Vijay Thakur Singh makes a statement on Jammu & Kashmir at the UNHRC. https://t.co/A4jxnz9BhT

— ANI (@ANI) September 10, 2019
Speaking at the UN Human Rights Council (UNHRC), Vijay Thakur Singh, Secretary (East) MEA, said that abrogation of Article 370 was a sovereign decision and an internal matter of India. "We wish to reiterate that this sovereign decision, like other legislations passed by Parliament, is entirely internal to India. No country can accept interference in its internal affairs, certainly not India," the official said.
Further, the MEA official said that the commentary by the Pakistan delegation was filled with "offensive rhetoric of false allegations and concocted charges." "World is aware that this narrative comes from epicentre of global terrorism, where ring leaders were sheltered for years," the official said.
Also read: Pak's Kashmir hour: Imran's rhetoric must be making Jinnah turn in his grave
In defence of the government's move, the official said that the Indian government is taking affirmative action by adopting progressive policies to promote socio-economic equality and justice.
Earlier in the day, Pakistan's Foreign Minister Shah Mehmood Qureshi said that Jammu and Kashmir requires direct international concern and that the Kashmir issue can never be an internal matter of India. He also sought the support of the global community in criticising India for scrapping Article 370.
"For the last six weeks, India has transformed occupied Jammu and Kashmir into the largest prison on this planet which virtually no access to basic amenities and means of communications. Locals are unable to access even the emergency health services. Human rights being trampled with impunity by India," he said.
The Foreign Minister, in a last-ditch attempt to make of the most of the Kashmir issue before the UN General Assembly, also demanded an UN probe into India's actions in Kashmir "amidst fears of genocide". Qureshi said a joint investigation committee should be formed for investigating the situation in Kashmir. "We support the formation of such a committee," he said.
Later, while addressing the media, Qureshi referred Jammu and Kashmir as an "Indian state", even though a portion of state remains under occupation of the neighbouring country.
#WATCH: Pakistan Foreign Minister Shah Mehmood Qureshi mentions Kashmir as "Indian State of Jammu and Kashmir" in Geneva pic.twitter.com/kCc3VDzVuN

— ANI (@ANI) September 10, 2019
Interestingly, when the Pakistan Foreign Minister was speaking at the UNHRC, the World Singh Congress held an anti-Pakistan protest outside the UN complex.
The Indian delegation led by Ajay Bisaria, ex-high commissioner to Pakistan and Vijay Thakur Singh, Secretary East is set to counter Pakistan with its own set of dossiers explaining the situation that led to the scrapping of the special status to J&K. According to reports by India Today, Pakistan will be submitting a 115-page dossier on Kashmir at the UNHRC on Tuesday.
Pakistan foreign minister Qureshi said, "Today, I have knocked on the doors of the Human Rights Council, the repository of the worlds conscience on human rights, to seek justice and respect for the people of Kashmir. We must not allow this august body to be embarrassed on the world stage. As a founding member of this Council, Pakistan feels morally and ethically bound to prevent this from occurring," he said, adding that in order to do so the body should not remain indifferent to the situation that was unfolding.
World Sindhi Congress holds protest against Pakistan outside United Nations in Geneva where 42nd session of the United National Human Rights Council (UNHRC) is underway. pic.twitter.com/Jl01wFzXcy

— ANI (@ANI) September 10, 2019
Also read: UNSC's move to discuss Kashmir not a good sign for India
"We must act decisively and with conviction," he said. His statement came a day after UN human rights chief Michelle Bachelet expressed "deep concern" over the impact of restrictions in Kashmir, and asked India to ease the current lockdowns to ensure peoples access to basic services. India last month abrogated the provisions of Article 370 in Jammu and Kashmir, and bifurcated it into two Union Territories. Indias move evoked strong reactions from Pakistan with its Prime Minister Imran Khan making provocative anti-India rhetoric, which India dubbed as "irresponsible statements".
According to reports by India Today, Pakistan will be submitting a 115-page dossier on Kashmir at the UNHRC on Tuesday.
The Indian delegation had met the UN High Commissioner for Human Rights, Michelle Bachelet, and briefed her about the situation in J&K after the abrogation of Article 370, says news agency ANI.
Earlier, delivering the opening statement of the meet Bachelet urged the Indian government to respect civil rights in Kashmir and Assam. "I am deeply concerned about the impact of recent actions by the government of India on the human rights of Kashmiri's, including restrictions on internet communications and peaceful assembly, and the detention of local political leaders and activists," Bachelet said.
On Monday, Qureshi in a tweet said Pakistan will speak at session over the Kashmir issue. "Pakistan will speak definitively at the session in Geneva on the continued India atrocities in #Kashmir. As High Commissioner Michelle Bachelet said: the people of Kashmir must be consulted and engaged in any decision-making processes," he said in a tweet.
Meanwhile, Union minister Harsimrat Kaur Badal has urged external affairs minister S Jaishankar to take up the issue of targeting of minorities in Pakistan at the UNHRC.
Tharoor slams Islamabad
Asserting that Pakistan has "no locus standi" on Kashmir, senior Congress leader Shashi Tharoor said that after what Islamabad has done by changing the status of Gilgit-Baltistan and Pakistan-occupied Kashmir (PoK), how can it raise a finger at India.
Also read: Kashmir 'fully integrated' with India even before Article 370 was dumped
"Pakistan has nothing to do with whatever happens within India. Whatever happens in India is our issue. We are in the Opposition, so we can criticise the government, but we are united outside the country and will never yield even an inch to Pakistan," he told news agency PTI on Sunday.