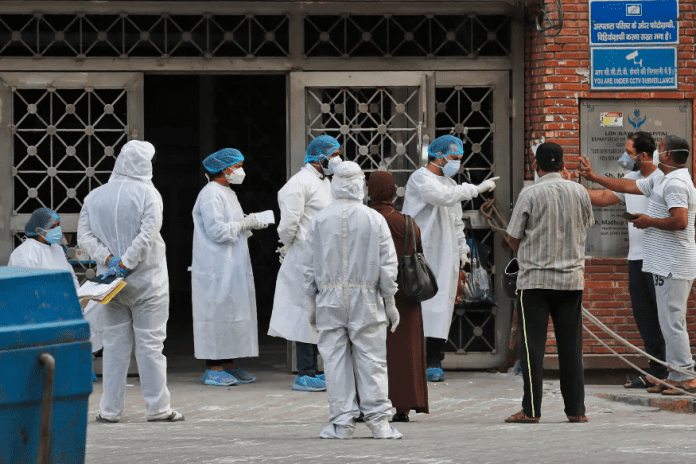 India's COVID-19 caseload crossed the 30-lakh or 3 million-mark, just 16 days after it clocked in 2 million cases. It took the country a little more than 200 days to reach 3 million cases. Sunday (August 23) saw a single-day spike of 69,239 fresh cases, taking the total number of infections to 30,44,940. The death toll mounted to 56,706 with 912 fatalities being reported in a span of 24-hours.
India is third to Brazil and the US in recording more than 3 million cases. According to ministry data, the country saw 3,97,277 cases and 5,700 fatalities in the past one week alone.
India's recovery rate now stands at 74.90 per cent, with 22,80,566 people having recuperated so far. The COVID-19 case fatality rate too has declined to 1.86 per cent.
There are 7,07,668 active cases of coronavirus infection in the country which comprises 23.24 per cent of the total caseload, the data stated.
India's COVID-19 tally had crossed the 20-lakh mark on August 7. The country has been recording single-day spikes for the past 18 days.
Related news: Don't restrict interstate travel during Unlock phase: Govt to states
According to the ICMR, a cumulative total of 3,52,92,220 samples have been tested up to August 22, with 8,01,147 samples being tested on Saturday.
Maharashtra with more than 6.5 lakh cases tops the list of states with the highest number of number of infections. It is followed by Tamil Nadu which has 3,73,410 cases and Andhra Pradesh (3,45,216).
In view of the rising infections, several states including Uttar Pradesh, Punjab, Assam, Odisha and Tamil Nadu have begun imposing weekend curfews to limit the movement of public.
With at least three vaccines undergoing human trials in the country, the ICMR on Saturday said that it is working to create a vaccine portal which will contain all information related to vaccine development, soon.