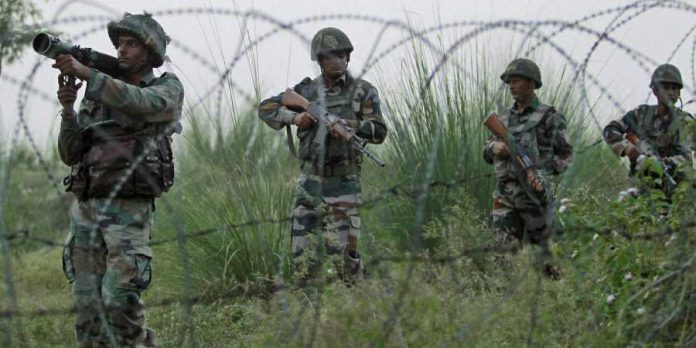 India and Pakistan militaries said on Thursday (February 25) that they had agreed to stop firing along the Line of Control ( LoC) in Kashmir, where such gunfire has been frequent in recent months, often killing or maiming people living in the area, Reuters reported.
"In the interest of achieving mutually beneficial and sustainable peace along the borders, the two DGsMO agreed to address each other's core issues and concerns which have propensity to disturb peace and lead to violence," a joint statement said, referring to the military operations heads of the two countries.
According to Pakistan's Inter-Services Public Relations (ISPR), the DGMOs of the two countries held discussions over the established mechanism of hotline contact. The two sides reviewed the situation along the Line of Control (LoC) and all other sectors in a free, frank and cordial atmosphere, Pakistan's Dawn paper quoted Radio Pakistan as saying.
Also read: Pakistani terror groups are now cyber-recruiting in J&K: Officials
Pakistan's military spokesman Maj Gen Babar Iftikhar, told private TV channels: "There has been contact between India and Pakistan on a hotline level since 1987. Frequently, the DGMOs of both countries stay in contact through this established mechanism." He said that from 2014 there was a spike in ceasefire violations along the LoC. "Both the DGMOs have agreed that the existing 2003 understanding should be implemented in letter and spirit".
Indian security agencies have said there were 5,100 instances of ceasefire violation by Pakistan along the Line of Control (LoC) in 2020 in J&K, the highest in nearly 18 years, which claimed 36 lives and left more than 130 people injured.
There were 3,289 ceasefire violations by the Pakistan army along the border in 2019, they said. Of these, 1,565 ceasefire violations took place since August 2019, after India scrapped Article 370 that gave special status to Jammu and Kashmir and bifurcated the erstwhile state into UTs.
Also read: US updates travel advisory to citizens for Pakistan, Bangladesh, Afghanistan