Hours after the deadly coronavirus was declared a global health emergency, India on Friday (January 31) imposed a ban on the export of all kinds of personal protection equipment, including masks used for protection from airborne particles. This also includes the N95 masks which are effective in preventing the virus from spreading.
In a notification on Friday, the ministry of commerce and trade prohibited the export of personal protection equipment, including clothing and masks (class 2/3/5 and N95). N95 masks are Food and Drug Administration (FDA)-approved particulate filtering respirations that can filter 95 per cent of airborne particles.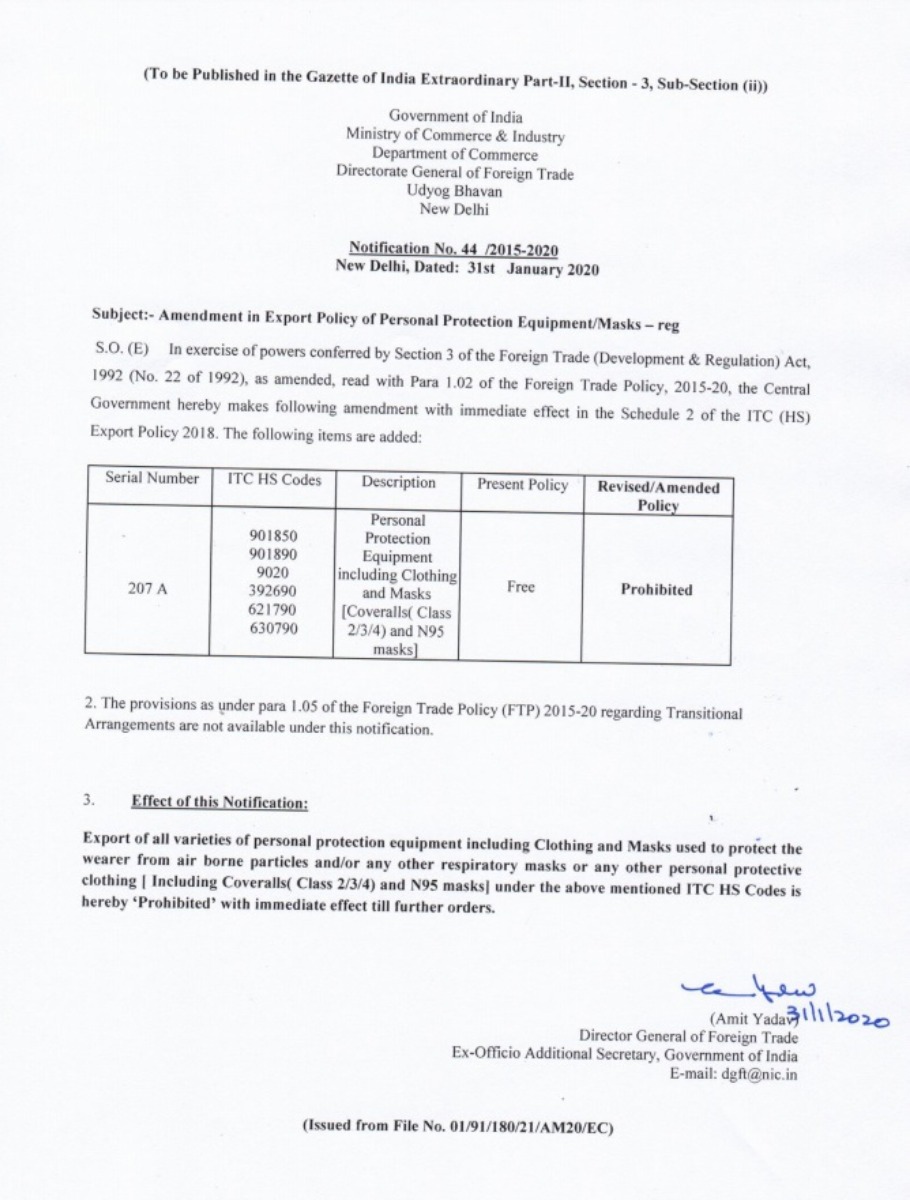 Also read | Coronavirus outbreak: China falls short of N95 masks, seeks India's help
"We are happy with the government's decision. With the sudden rise in demand, there were hundreds of suppliers and the market was unregulated with prices shooting up. So, we wanted the government to pitch in and take control," said J Jayaseelan, chairman of Indian Drug Manufacturers Association.
With the outbreak causing shortage of masks in China, dealers in the neighbouring country had approached Indian suppliers for mass production of the masks. However, the manufacturers were wary of increasing production and cited a shortage of raw materials, and feared India itself would run short of N95 masks if the outbreak spreads to India.
The Federal had reported on January 30 that Chinese customers and dealers were placing bulk orders from Indian suppliers, both in the wholesale and retail market. As a result, the prices had shot up by 50-80% in the retail market in the country. Several outlets in the prime cities also reported shortage of masks.
Also read | Army creates quarantine facility for Wuhan-return students in Manesar

Earlier this week, the All India Food and Drug License Association (AFDLH) had written to the ministry of health and family welfare, asking for a ban on the export of masks as they were not available in local markets. "Indian citizens would find it difficult to get these masks when needed. Hence, the export and price of these masks should be controlled," AFDLH had said.
In a similar move, Taiwan's health authorities had announced a month-long export ban on surgical and N95 masks with a view to address the local demand. The death toll in China's novel coronavirus outbreak has climbed to 213 with the number of confirmed cases totalling to 9,692 as of Friday.