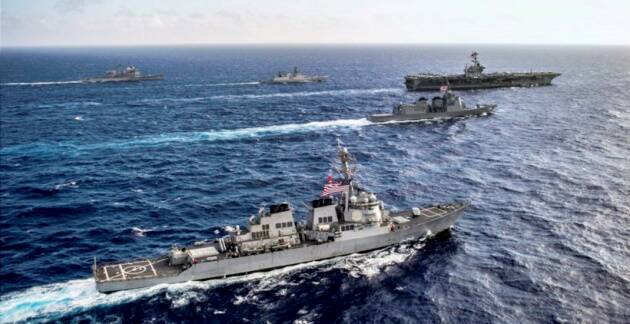 In a signal to China amid its standoff with India and aggression in the South China Sea, Australia will now join the Malabar naval exercise along with the other Quadrilateral countries like India, US and Japan, next month, India said on Monday (October 19).
The exercise which will take place in the Arabian Sea and Bay of Bengal towards November-end will be the first military drill between all the countries in the Quad group.
So far, since the revival of the Quad in 2017, the Malabar exercise had only involved the warships of India, US and Japan. Japan was included in the drill (initially started in 1992) in 2015. Australia's participation in the drill in 2007 had drawn sharp reaction from China, goading India not to invite it thereafter. Although Australia was keen to join the exercise, India had resisted the requests so far.
Also read: Navy deploys front-line warships in Indian Ocean in stern message to China
The decision to re-include Australia in the annual drill was taken at the Quad foreign ministers' meeting in Tokyo earlier this month.
The Malabar drill includes simulated war games and combat manoeuvres. Last year's exercise, held off the coast of Japan, included complex maritime operations in surface, sub-surface and air domains with focus on anti-submarine warfare and anti-air and anti-surface firing among others.
"As India seeks to increase cooperation with other countries in the maritime security domain and in the light of increased defence cooperation with Australia, Malabar 2020 will see the participation of the Australian Navy," a Ministry of Defence statement said on Monday.
The statement said the exercise has been planned on a 'non-contact-at-sea' format, and asserted that it will strengthen the coordination between the navies of the participating countries.
Also read: Border row: Navy to deploy MiG-29K fighter jets in key Air Force bases
"The participants of Exercise Malabar 2020 are engaging to enhance safety and security in the maritime domain. They collectively support free, open and inclusive Indo-Pacific and remain committed to a rules-based international order," the statement read.
Calling the Malabar Exercise a "milestone opportunity" for the Australian Defence Force, Australian Defence Minister Linda Reynolds said, "high-end military exercises like Malabar are key to enhancing Australia's maritime capabilities, building interoperability with our close partners, and demonstrating our collective resolve to support an open and prosperous Indo-Pacific."
US Deputy Secretary of State Stephen Biegun said the Quad grouping resembles a "NATO-like" bloc to prevent any potential challenge from China and that Australia inclusion in the Malabar exercise reflects the progress towards a formal defence bloc.