In India, 100 babies are born every two minutes, with Uttar Pradesh and Bihar accounting for more births, according to a report.
"Hundred babies will be born in the next two minutes in India. In which state are they likely to be born?" asked Stats of India, which explores India through data, stories, and visualisations, and provided data on the states which contribute to the highest and lowest births in the country.
Also read: Fertility rate drops to 2.0; anaemia still prevalent in women, children: NFHS
One in three babies is likely to be born in Uttar Pradesh and Bihar. In fact, four states will be home for nearly 50 babies – 22 in Uttar Pradesh, 12 in Bihar, 8 in Madhya Pradesh, 7 in Rajasthan – it added in a series of tweets on May 31.
According to it, more babies will be born in Uttar Pradesh than entire South India (15-16) in the next two minutes.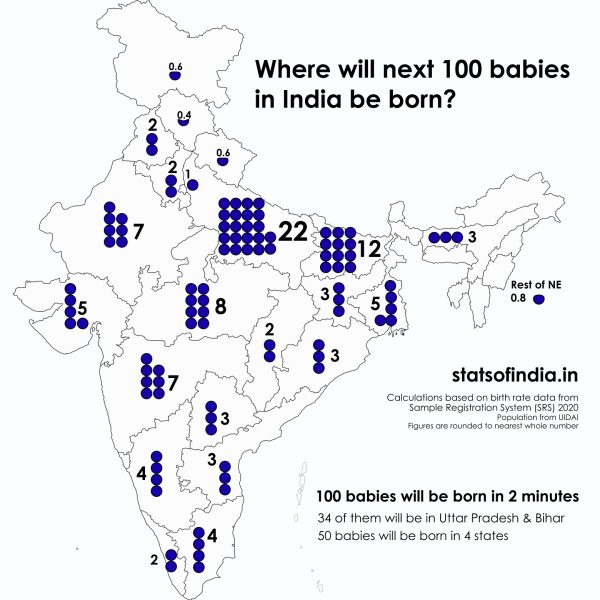 Further, it stated that population growth rates are decreasing in all states. In some states it is slower than the rest. So, if a state with a large population base has a high birth rate – it will continue to produce more babies and change the overall demographics of the country in a few decades.
Since the four states are so dominant, improvements made on infant health metrics (infant mortality, stillbirths, child vaccination rates, perinatal care), will have a huge impact on our national average overall, it said.
Also read: China allows couples to have 3 babies amid declining birthrate
"The calculations were based on estimated birth rate data from Sample Registration System (SRS) 2020. Population from UIDAI. Figures are rounded to the nearest whole number," it stated.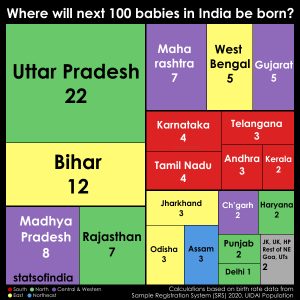 The SRS provides reliable annual estimates of Infant mortality rate, birth rate, death rate and other fertility & mortality indicators at the national and subnational levels. It is a large-scale demographic survey conducted every year by Office of the Registrar General, India in all States/Union Territories.
In 2020, as per SRS, the birth rate for the country has been estimated at 19.5 births per thousand population.
Birth rate
Birth rate is a crude measure of fertility of a population and is a crucial determinant of population growth. It gives the number of live births per thousand population in a given region and year.
The birth rate at the all-India level has declined drastically over the last five decades from 36.9 in 1971 to 19.5 in 2020. The rural-urban differential has also narrowed over these years. However, the birth rate has continued to be higher in rural areas compared to urban areas in the last five decades, the SRS 2020 report said.
Birth rate has declined by about 11% in the last decade, from 21.8 in 2011 to 19.5 in 2020. The corresponding decline in rural areas is 23.3 to 21.1 (about 9% decline), and for urban areas it is from 17.6 to 16.1 (about 9% decline). In 2020, the highest birth rate has been observed at 25.5 in Bihar, whereas Andaman & Nicobar Islands has the lowest birth rate of 10.8, the report added.