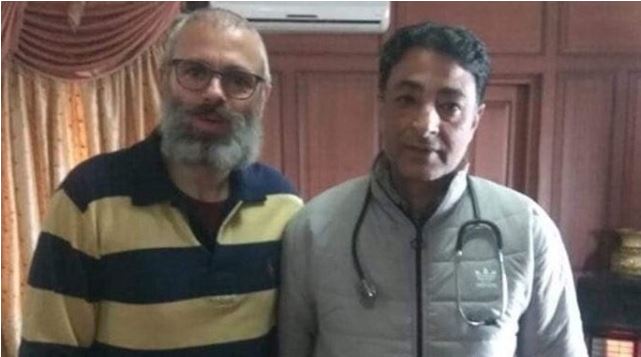 The third picture of former Jammu and Kashmir Chief Minister Omar Abdullah who has been under detention since August 5, 2019, has surfaced on Thursday (March 5).
In the picture, Abdullah can be seen sporting a long beard and standing with a doctor.
According to sources, the former CM has decided to not shave his beard as a mark of protest and hasn't shaved since August last year.
Previously also, a photo of Abdullah did the rounds on the internet showing him with an uncharacteristically long beard, unlike the clean-shaven image that he used to maintain before Jammu and Kashmir was divested of its special status.
Advertisement
After the picture was widely shared and discussed, in a tweet, the BJP's Tamil Nadu wing took a dig at the National Conference leader, saying they had ordered a pack of razors as a gift to be delivered at his Srinagar residence.
Related news: SC to hear on March 5 plea against detention of Omar Abdullah under PSA
BJP came in for an all-round attack for the tweet, which was later deleted, with some terming it insensitive.
Three former Jammu and Kashmir ministers have been in detention since August last year, including Farooq Abdullah and PDP chief Mehbooba Mufti.
Earlier this year Omar's sister Sara Abdullah Pilot challenged the detention of her brother on February 10 and approached the apex court, saying the order to keep Omar under detention was "manifestly illegal" and there was no question of him being a "threat to the maintenance of public order".
Following the plea, the Supreme Court issued a notice to the Jammu and Kashmir administration on February 14.