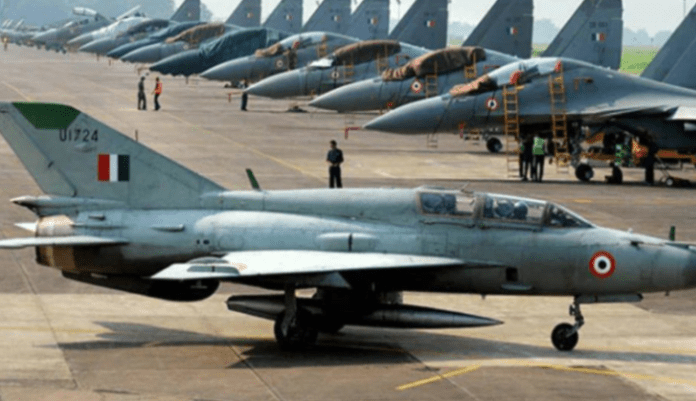 The Indian Air Force (IAF) has temporarily grounded its fleet of around 50 MiG-21 fighter aircraft following the crash of one of the jets in Rajasthan's Hanumangarh around two weeks ago in which three women were killed, people familiar with the matter said on Saturday (May 20).
Three women were killed and several others were injured after a MiG-21 aircraft crashed into a house in Hanumangarh moments after taking off for a routine training sortie from the Air Force Station at Suratgarh on May 8.
The pilot had reportedly faced an onboard emergency after take-off and had tried to recover the aircraft, but in vain. While the three women were killed, the pilot managed to eject safely and was rescued around 25 km north-east of the Suratgarh base.
According to the officials cited above, the MiG-21 aircraft are currently undergoing technical evaluation and checks. The aircraft will be allowed to fly only after clearance by the teams concerned carrying out the scrutiny.
Also read: IAF's MiG-21 crashes into house in Rajasthan; 3 civilians killed, pilot ejects safely
The crash of the jet had again put the spotlight on the ageing fleet of Soviet-origin aircraft which were involved in around 400 accidents since their first induction in the early 1960s.
The MiG-21s used to be the mainstay of the IAF for a long period of time. After the first induction, the IAF procured over 870 MiG-21 fighters to boost its overall combat prowess.
However, the aircraft has a very poor safety record.
According to official data, MiG-21s were involved in 400 crashes in the last six decades. At present, the IAF has three MiG-21 squadrons with a total of around 50 aircraft, according to officials.
The IAF last year finalised a timeline of three years to phase out the remaining MiG-21 fighter squadrons.
The IAF also plans to start the phasing out of the three squadrons of Mig-29 fighter jets in the next five years.
As part of the IAF's modernisation plan, the defence ministry in February 2021 sealed a ₹48,000 crore deal with the Hindustan Aeronautics Limited (HAL) for the procurement of 83 Tejas jets.
The IAF has already procured 36 Rafale jets to enhance its combat capabilities.
It is also in the process of acquiring 114 Medium Role Fighter Aircraft.
(With inputs from agencies)