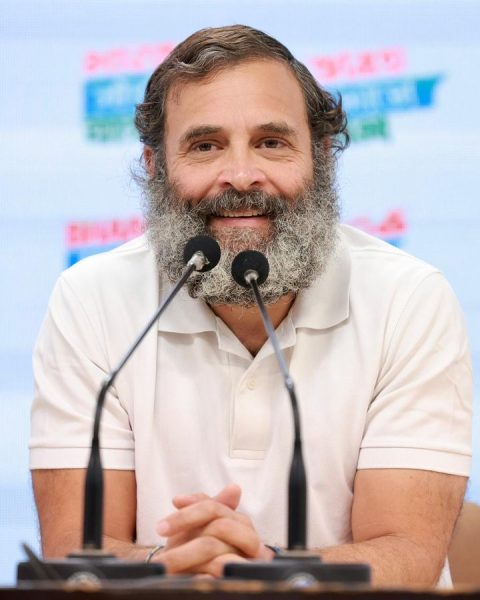 'Don't run Punjab from Delhi,' Rahul tells Mann
Congress leader Rahul Gandhi on Thursday again took potshots at the AAP government in Punjab alleging that it was being run with a remote control. He claimed that AAP leader and Delhi CM Arvind Kejriwal and AAP MP Raghav Chadha called the shots in the Bhagwant Mann-led government in the state.
The Wayanad MP also accused the Aam Aadmi Party (AAP) of spending Punjab funds on advertisements during the Gujarat assembly polls held last year.
Addressing a rally here on the last day of Bharat Jodo Yatras Punjab leg, Gandhi further said he respects CM Mann but asked him that Punjab should be run from Punjab only, not from Delhi.
Also Read: AAP gets recovery notice of Rs 163.62 cr for political advertisements: Sources
Referring to his last public address in Hoshiarpur earlier this week, Gandhi said, I told Bhagwant Mann ji, do not let Punjab be run from a remote control. I did not say an ordinary thing."
"You sat with me in Lok Sabha (when Mann was an MP). There is a huge difference between you and Arvind Kejriwal ji. I respect you and I am saying this from the stage of the Congress party. But Punjab should not be run from Delhi, he said.
Gandhi said during the yatra he asked a farmer about the new AAP government in Punjab. His reply was that it was a remote controlled government, the former Congress chief claimed.
Also Read: Delhi LG nominating BJP workers for MCD, alleges AAP
"I did not like it. It is a different thing that the Congress will fight against the AAP," he said.
… When I asked the farmer the meaning of remote control, he said (AAP MP) Raghav Chadha. Then it is not a right thing, Gandhi said.
He alleged that public money of Punjab was used on advertisements during the Gujarat assembly polls last year. It is wrong. It is the money of the people of Punjab.
On January 16 in Hoshiarpur, Gandhi had said that Mann should not become remote control of anyone and should run the state independently, drawing a sharp reaction from the Punjab chief minister.
Also Read: Congress and BJP spar over Ayodhya as top Ram Mandir priest blesses Rahul
Mann had told Gandhi that he was made the chief minister by the public and reminded him of an insult inflicted on Amarinder Singh by unceremoniously removing him from the post of CM.
Mann has been facing criticism from the opposition parties that his government was being remote controlled by AAP national convener and Delhi Chief Minister Arvind Kejriwal.
The Punjab leg of yatra will come to an end on Thursday as it will enter Jammu.
Also Read: Why Rahul Gandhi is key to the 'alternative vision' needed to displace Modi
The march, which started from Kanyakumari in Tamil Nadu on September 7, will conclude in Srinagar by January 30, with Gandhi hoisting the national flag in the summer capital of Jammu and Kashmir.
The yatra has so far covered Tamil Nadu, Kerala, Karnataka, Andhra Pradesh, Telangana, Maharashtra, Madhya Pradesh, Rajasthan, Delhi, Uttar Pradesh and Haryana.
(With agency inputs)