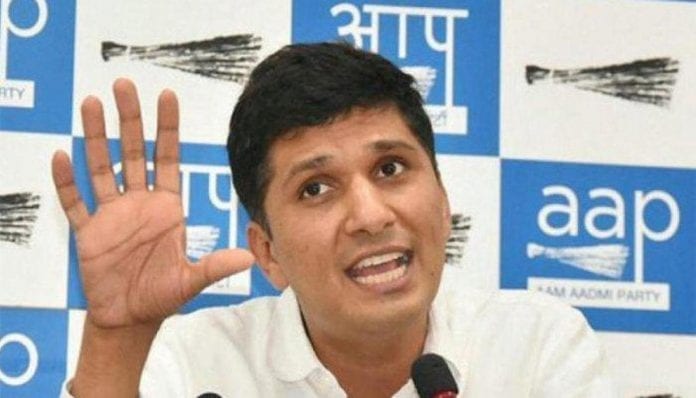 Hindus are not safe under the BJP. That was the message put out by the Aam Aadmi Party on Saturday as it sought to blame Home Minister Amit Shah for the murder of Rinku Sharma, a 25-year-old Vishwa Hindu Parishad activist, last week.
"Murder cases in Delhi have become common now… the home minister is responsible for these killings," AAP spokesperson Saurabh Bhardwaj said at a press conference on Saturday. "Hindus are not safe under Bharatiya Janata Party's government."
The Delhi Police comes under the jurisdiction of the home ministry. Sharma was stabbed to death allegedly by his neighbours and business associates following an argument at a birthday party.
"The law-and-order situation in Delhi has badly deteriorated. Many such incidents show that the Ministry of Home Affairs has failed to maintain the law-and-order situation in Delhi. We strongly condemn this gruesome killing and urge the MHA to take urgent steps to restore people's faith in the law-and-order system of Delhi," Bhardwaj said.
Police on Saturday said the murder case had been transferred to the Crime Branch, a day after the arrest of a fifth accused.
Meanwhile, following allegations by the victim's family that he was killed because of his religious and political beliefs, the police put out a statement denying any such angle.
Rinku's brother Manu – as well as his family – told the media that Rinku had been repeatedly threatened in the past few months.
"On August 5, we had taken out a rally for the construction of the Ram Temple [in Ayodhya]," Manu told NDTV. "At that time, too, we were harassed. They had threatened us. Then he [Rinku] was murdered on Wednesday. They used to object to the chanting of 'Jai Shri Ram'."
In a tweet, the police said: "On 10.2.21 eve, a scuffle ensued during a birthday party in the area of Mangolpuri, following which victim Rinku Sharma got injured in stabbing, who later succumbed to injury during treatment. A case under relevant sections was registered & all 04 accused were arrested."
"So far, during investigation it has surfaced that quarrel started during a birthday party over shutting down of a restaurant.
"All persons are known to each other and live in the same locality. Any other motive alluded to this incident is factually wrong."