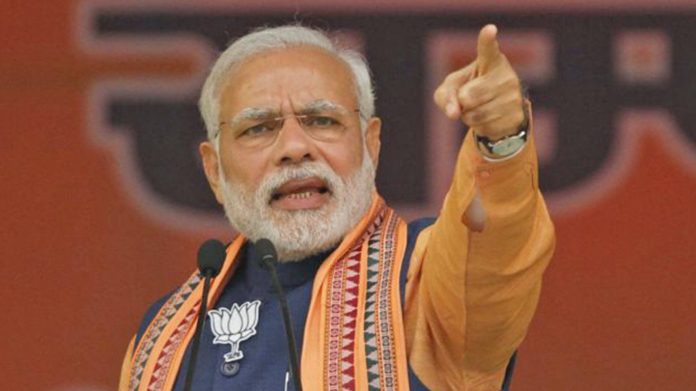 Expressing his concern over the acute water crisis ailing several parts of the country, Prime Minister Narendra Modi urged citizens to adopt a three-pronged formula to conserve every drop of water, during the first broadcast of his popular radio show 'Mann Ki Baat' after the return of his government to power, on Sunday.
The Prime Minister urged people to start a public movement to save water, akin to that of the cleanliness movement, Swachch Bharat Abhiyan, initiated by his government and requested them to follow three steps – start awareness programmes on water conservation, revive traditional ways of water conservation and disseminate information given by people or NGOs working towards the cause.
"Water has a great role in our culture. Even the Rig Veda says that water is the source of life and compares it to one's mother. But you would be surprised to know that only 8% of rainwater is harvested in our country.
It's time we all come together and find a solution to this. Keeping water as priority, a new Water Resources Ministry has been formed which will address all water related problems. I am sure we with the help of 130 crore countrymen will find a cure to this crisis too."
He said that, on his call, on June 22, 22,000 panchayats in the country held gram sabha meetings and resolved to find ways to save water.
"There is no single formula to tackle water crisis. To achieve it, different ways are being tried in different parts of the country. But the goal is the same – to save water. In Punjab, drainage lines are being fixed to address the problem of water logging. In Telangana, construction of tanks is helping people. In Rajasthan's Kabirgram, a change has been seen due to the construction of ponds near fields. Efforts are being made everywhere."
The three ways 
While putting forth his three requests he urged celebrities – from the cine world to the media to social and cultural organisations to sports – to spearhead awareness campaigns on water conservation. His second request to people was to revive and implement traditional ways of saving water, by taking a cue from their ancestors. "There are many traditional ways to save water. If you go to Porbandar and visit Bapu's (Mahatma Gandhi) house, you can see a 200-year old tank behind it, which saves rainwater."
He also urged people to share information given by people or NGOs working towards water conservation so that a database can be prepared for them. The content can be shared on #Janshaktiforjalshakti.
It was the PM's first Mann Ki Baat after his government was re-sworn to power.
The Prime Minister started his talk by expressing his joy to be back on the programme, one he said he missed during the hiatus, especially because it helped him interact with people. He said it is the people and their letters that inspire him to be a good administrator.
"It is your letters, your inputs that inspire me. Sometimes they help me shape my thoughts. People sometimes write about the solutions along with the problems. Also, in the past few years, I haven't seen anyone asking for anything for themselves. It is a great thing to do. Can you imagine people writing to the Prime Minister and asking nothing? Such is the greatness of our countrymen," he said.
Lessons on democracy from 
Referring to the Emergency era during Indira Gandhi's rule, Modi said Emergency made people realise the value of democracy, which is a feature inherent to the culture of India.
"When Emergency was imposed, protests against it wasn't only limited to politicians. It wasn't limited to jails. Everyone fought for democracy. One realises the value of basic rights in a democracy only when someone snatches it away from you. During Emergency every citizen felt that something was taken from them," he said.
Hinting that the Congress's defeat under Indira Gandhi in 1977 was a mark of the dissatisfaction of people, he explained how people, if united, can fight to reinstate democracy in the country.
"Our democracy hasn't evolved because of our constitution, but because it is inherent in our values. We realised that during Emergency, and that's why people sacrificed an election to reinstate democracy in the country in 1977. From rich to poor, everyone participated in the festival that decided the fate of the country," he said.
Calling the 2019 Lok Sabha polls the biggest democratic election in the history of the country, Modi said more than 61 crore people voted this time. "This may be a small population. But the number was more than the population of any country in the world, except China. This is the greatness of our democracy."