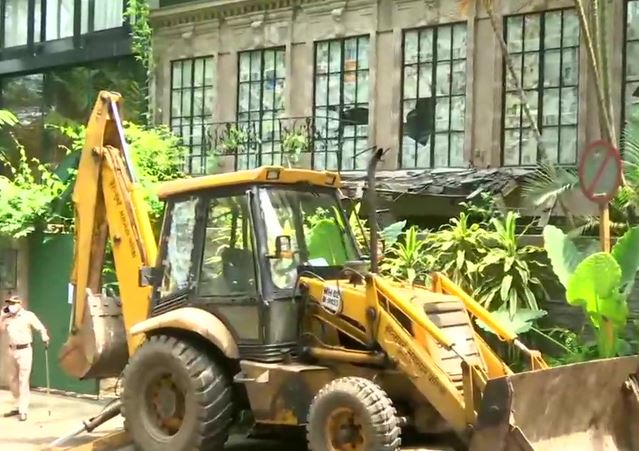 The Bombay High Court on Wednesday (September 9) stayed the demolition process initiated by the Brihanmumbai Municipal Corporation (BMC) for illegal construction at actor Kangana Ranaut's bungalow in Mumbai and sought to know why the city civic body entered the property when the owner was not present.
The court sought to know from the BMC how it entered the premises and directed it to file an affidavit in response to the plea.
The court has posted the matter for hearing on Thursday (September 10).
Advertisement
Justice S J Kathawalla was hearing a petition filed by Ranaut challenging the notice issued by the BMC for illegal construction at her bungalow. The petition also sought a stay on the demolition process after BMC bulldozers razed down the alleged illegal structure at Ranaut's newly-built office in Mumbai on Wednesday.
"We filed a petition this morning seeking urgent hearing. We have sought a stay on the demolition process by way of interim relief," Kangana's advocate Rizwan Siddiqui had told the media earlier.
Earlier in the day, Kangana in a tweet showing the demolition of her office, had compared Mumbai with Pakistan occupied Kashmir (PoK).
"I am never wrong and my enemies prove again and again this is why my Mumbai is POK now," she had tweeted.
I am never wrong and my enemies prove again and again this is why my Mumbai is POK now #deathofdemocracy 🙂 pic.twitter.com/bWHyEtz7Qy

— Kangana Ranaut (@KanganaTeam) September 9, 2020
"There is no illegal construction in my house, also government has banned any demolitions in Covid till September 30, Bullywood watch now this is what Fascism looks like," she said in another tweet.
The same comparison a few days back had landed her in controversy, drawing acerbic remarks from the Shiv Sena.
Related news: Kangana Ranaut gets Y-category security following 'threats'
The BMC on Tuesday pasted a stop-work notice at the actor's bungalow at Pali Hill in suburban Bandra. The civic body claimed that during regular inspection it found several illegal constructions and modifications have been carried out without taking necessary approvals from the civic body.
The BMC on Tuesday also filed a caveat in a local court, saying it should be heard first if Kangana challenges the stop-work notice issued to her.
A caveat is a request to a court that no order should be passed without hearing the person/party which files it.
(With inputs from agencies)