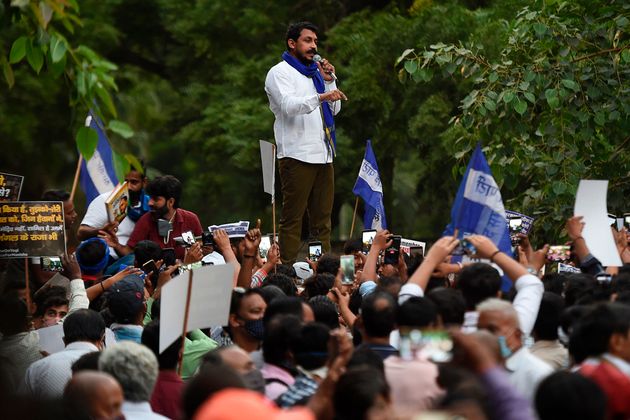 Bhim Army chief Chandrashekar Azad and 400 others have been charged with violating a ban on large gatherings after he visited Hathras in Uttar Pradesh on Sunday (October 4) to meet the family of a gang rape-and-murder victim.
The Bhim Army chief, also known as 'Raavan', held a protest on Sunday after he was stopped twice by the UP Police when he was on his way to meet the victim's family.
On being asked about the case against the Bhim Army chief, Joint Magistrate Prem Prakash Meena said: "The police would know better about it."
Advertisement
The state government had allowed Azad to the meet the family after huge protests on a condition that he could take only 10 people along.
When he was stopped for the first time, about 20 km from Hathras, he marched for around 5 km, along with his supporters, to cover the distance to reach the victim's home.
As he met the family on Sunday evening, he demanded Y-Plus category security for them. "Kangana Ranaut was given Y-plus security, and meetings are being held to back the Hathras accused… I demand that the government arranges Y-Plus category security for the victim's family. We have all seen that the CBI follows the government orders," he told reporters.
He also urged the administration to let him take the victim's family along with him. The request was turned down.
Related news: Like Kangana, give Y Plus security to Hathras victim's family: Bhim Army chief
Azad's Hathras visit came a day after Congress leaders, Rahul Gandhi and Priyanka Gandhi Vadra, met the family at their home.
On Friday, the Bhim Army chief joined a protest at Delhi's Jantar Mantar where hundreds of people protested against the incident.
Several Opposition leaders were stopped from going to Hathras. Rahul Gandhi and Priyanka Gandhi Vadra were stopped in their first attempt to meet the victim's family. The next day, Trinamool Congress' Derek O'Brien and several other TMC leaders said they were manhandled just when they were about to reach the victim's home.