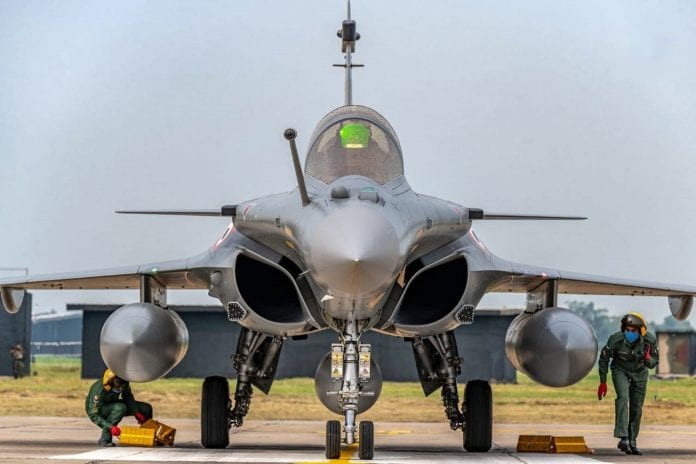 India's Rafale fighter jets will soon have air-to-surface Hammer (Highly Agile Modular Munition Extended Range) all-weather smart weapon in addition to air-to-air MICA, METEOR missiles and air-to-ground SCALP stand-off weapon, as it looks to bolster its capabilities in view of the threat from China.
Related news: Three more Rafales land at Jamnagar base
The Hammer is a new generation all-weather smart weapon that can be launched from a very short to a long range of 70 km without GPS. According to a Hindustan Times report, the weapon has a high resistance to jamming and target location errors.
The interoperable missile has the capability to  strike fixed or moving targets with high precision. It can be used for multi-target attacks also and needs zero maintenance. It can be used to destroy bunkers or hardened shelters even in difficult terrains such as  mountains, like near the Ladakh border, with precision.
The weapon usually would have taken a year to be delivered to the IAF, but the French air force has decided to part with the weapon from its inventory to meet New Delhi's urgent requirement.
The urgent need of India for the weapon comes at a time when it is engaged in a border conflict with China at eastern Ladakh. The existing Rafale jets are on the frontline of IAF, which is on alert in Ladakh.
The second consignment of three Rafale fighter jets landed at the Jamnagar airbase on Wednesday (November 4) while the first five, that reached India, in July have already been commissioned into the Indian Air Force and deployed in Ladakh.
The jets built by French aerospace major Dassault Aviation are known for their precision strikes and air superiority.
Related news: With Rafale in its armory, IAF chief talks of 'capability to strike first'
The eight jets are part of 36 fighter jets that are expected to reach India by mid-2022 as part of a ₹60,000 crore deal signed by the NDA government in 2016.
The Hammer contract was reportedly signed between the governments of France and India in September. The weapon will be delivered to the Golden Arrows Squadron of the IAF in Ambala by November-end.