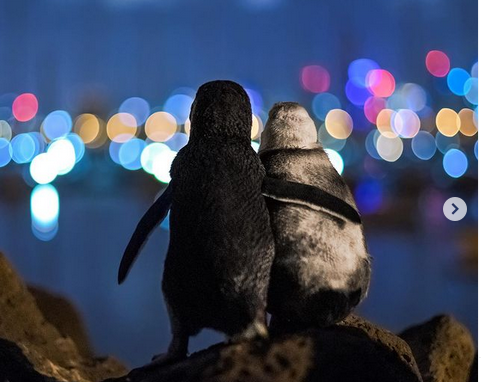 If the viral photos of the elusive black panther of Karnataka's Nagarhole Tiger Reserve, clicked by wildlife photographer Shaaz Jung, left you open-mouthed, then this one would certainly melt your heart.
We are talking about the widely circulated photo of two widowed penguins comforting each other at Melbourne's St. Kilda Pier. The photograph taken by German photographer Tobias Baumgaertner, has won the Community Choice Award for this year.
Tobias, who had shared the photo on his Instagram page in March, had been complimented for capturing the poignant feeling of camaraderie between the two birds who had lost their partners.
"These two Fairy penguins poised upon a rock overlooking the Melbourne skyline were standing there for hours, flipper in flipper, watching the sparkling lights of the skyline and ocean. A volunteer approached me and told me that the white one was an elderly lady who had lost her partner and apparently so did the younger male to the left. Since then they meet regularly comforting each other and standing together for hours watching the dancing lights of the nearby city," Tobias wrote in an Instagram post.
He said it took him three full nights with the penguin colony to finally capture the picture.
"Between not being able or allowed to use any lights and the tiny penguins continuously moving, rubbing their flippers on each other's backs and cleaning one another, it was really hard to get a shot but I got lucky during one beautiful moment," he wrote.
According to BBC, St Kilda Pier, where Tobias clicked the picture, is home to a colony of around 1,400 fairy penguins, which are a smaller version of the species with an average height of 13 inches.