Farmers protesting at the borders of Delhi, have welcomed the decision of Bhupinder Singh Mann, the president of Bhartiya Kisan Union (BKU) to recuse himself from the committee formed by the Supreme Court to hold talks with the protesters.
The farmers said the other members of the panel should also follow in Mann footsteps as the protesters never wanted a committee to intervene. They stressed that their demand remains the same – the repeal of the three farm laws.
Some farmers have also invited Mann to join their protest.
Mann, one of the four interlocutors appointed by the Supreme Court to hold talks with protesting farmers recused himself from the committee earlier in the day.
"As a farmer myself and a Union leader, in view of the prevailing sentiments and apprehensions amongst the farm unions and the public in general, I am ready to sacrifice any position offered or given to me so as to not compromise the interests of Punjab and farmers of the country," Mann said in a press statement.
"I am recusing myself from the committee and I will always stand with my farmers and Punjab," he added.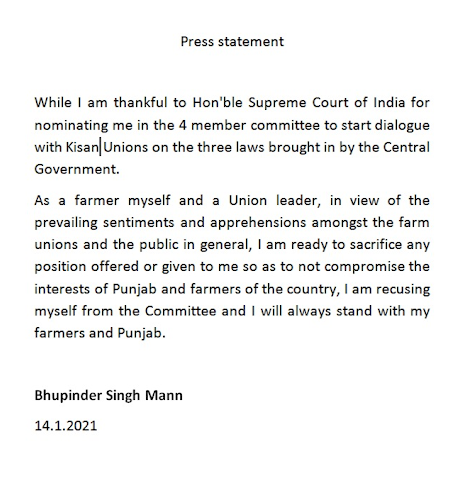 Mann, 81, is the president of the Bharti Kisan Union (Mann) and chairman of the All India Kisan Coordination Committee (AIKCC). He was an independent member of the Rajya Sabha from 1990s to 1996. While he had supported the Congress in 2012, Mann had spoken in support of the Centre's farm laws in the Lok Sabha in 2019.
As soon as the Supreme Court named the four committee members, farmers alleged that he has been in support of the farm laws all along and hence cannot take a subjective view of the matter.
Mann, reportedly was also present in one of the meetings between the 33 protesting farmer unions with Punjab Chief Minister Capt Amarinder Singh last October, although he wasn't allowed to speak.
Related news: SC panel members know to advocate farm laws, say agitating farmers
Mann, however, had refused to comment on the farm laws after the Supreme Court named him a member of the committee.
On Tuesday, the apex court while putting a stay on the implementation of the farm laws, constituted a four member committee which will hold talks with the farmers over the legislations.
Bhupinder Singh Mann, Dr Pramod Kumar Joshi, Ashok Gulati, and Anil Ghanwat are the four members.