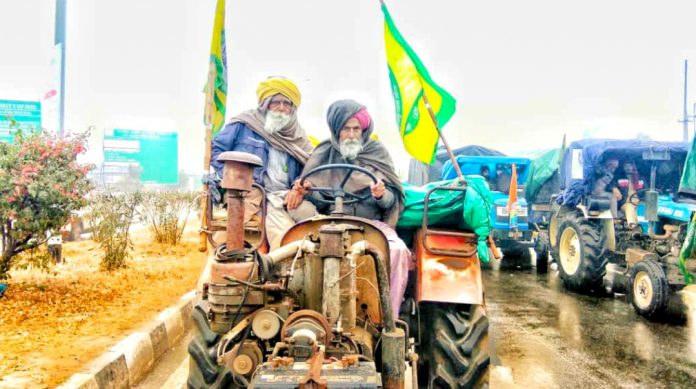 The farmers' unions may have deferred the date of 'tractor march' from January 6 (Wednesday) to January 7 due to a bad weather forecast, but they remain adamant on their decision to intensify the agitation in the days to come.
On Thursday (January 7), farmers in thousands of tractors will take out the march from Singhu, Tikri, Ghazipur and Rewasan (Haryana-Rajasthan border) all the way to the Kundli-Manesar Palwal (KMP) Expressway.
Addressing a press conference at Kundli, Yogendra Yadav, political activist and a member of the Samyukt Kisan Morcha, said the tractor march would be a "trailer of what lies ahead on January 26". He said, "The seventh round of talks with the government failed as it refused to repeal the three farm laws. Now, we have decided to intensify and broaden our movement."
Yadav said the march will begin from expressway on all four sides of Delhi at 11 am. "The tractors would leave from Singhu, Tikri and Ghazipur borders and Rewasan in Haryana, for the Eastern and Western Peripheral Expressways, and meet midway," he added.
Talking to The Federal, Gurnam Singh Chadauni, Bhartiya Kisan Union (BKU), Haryana, said that nearly 3,000 tractors from all the sites will take part in the march. "About 1,000 tractors from the Tikri border will move towards Singhu border on the western peripheral expressway (WPE) of KMP expressway. Similarly, 1,000 tractors from Singhu border will move towards Tikri border on WPE. At the WPE toll plaza, which comes in the middle, they will meet, have a round of talks and return to their original places.
"In the same manner, farmers from Ghazipur, in 500 tractors, will move towards Palwal on the eastern peripheral expressway (EPE) of KMP expressway. From Rewasan village in Mewat district and Palwal, 250 tractors each will reach the EPE of KMP expressway. They will meet at the toll plaza on the EPE, which comes in the middle, have a round of talks and return to their original places," Chadauni added.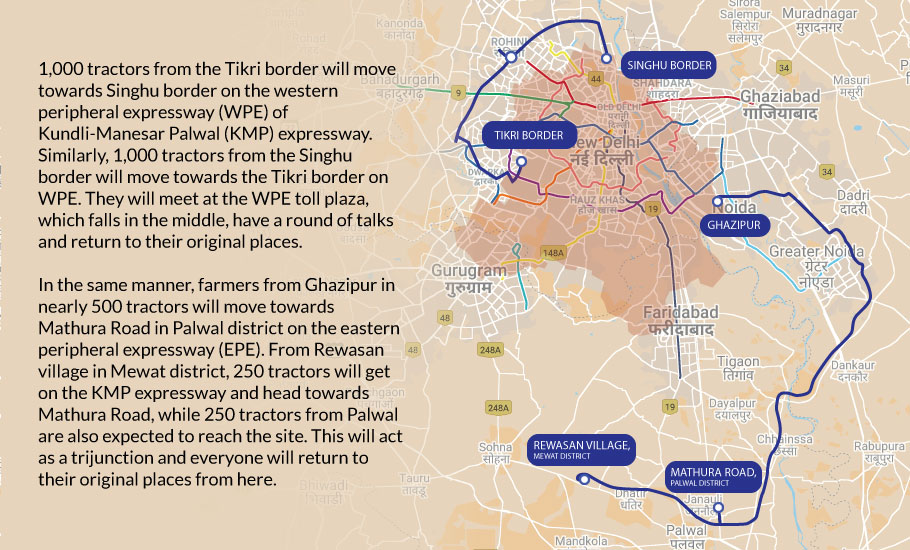 Farmers and Tractors
Jagjit Singh Dallewal, president of Bhartiya Kisan Union (BKU), Sidhupur told The Federal, "We are not moving the tractors and trolleys which are currently standing on the site but more tractors will come from Haryana and Punjab. We decided to do so because the existing tractors at the site act as make-shift houses for the protesting farmers. It will be very difficult to place them in their positions again."
Watch: Farmers throw a surprise with planning, clockwork-like execution
"Secondly, the government is under the impression that more farmers have stopped coming to the protest and our numbers are dwindling. So we want to tell the government that our numbers are still rising and this protest is very much alive. Hence, we have called for more tractors. We will take back the protest only after the repeal of three farm laws," Dallewal added.
A long queue of tractors can also be seen at the state highways of Haryana and Punjab as a preparation for Thursday's march. Manpreet Singh, a farmer from Sangrur who is going to Tikri border, told The Federal: "I am going to take part in the march tomorrow (Thursday). I will stay there for a week."
Also read: Farm contribution to GDP dips; so does farmers' income in past decades
Not only men, but women, too, are ready to take part in the agitation. Malto Devi, who hails from Rohtak in Haryana, said that she will also drive a tractor during the march. "It is not just for tomorrow (Thursday). A bunch of women from Haryana and Punjab are getting trained to take part in the tractor march on January 26 as well," she added.
Darshan Pal, president of Krantikari Kisan Union, said the tractor speed will be maintained at not more than 30 km per hour. "The protest will be peaceful and disciplined. Besides, the agitation plan includes boycott of Adani and Ambani products, burning copies of the laws on Lohri, observing Mahila Kisan Diwas on January 18 and Azad Hind Kisan Diwas on January 23 on the occasion of the birth anniversary of Netaji Subhash Chandra Bose."
Devinder Sharma, an agricultural policy analyst, said, "The tractor march has emerged as a new form of expression of farmers' anger. Not only in New Delhi but far away in the Netherlands, France and Germany and for that matter across various continents, too, tractors have acquired a new role in farmers' protest."