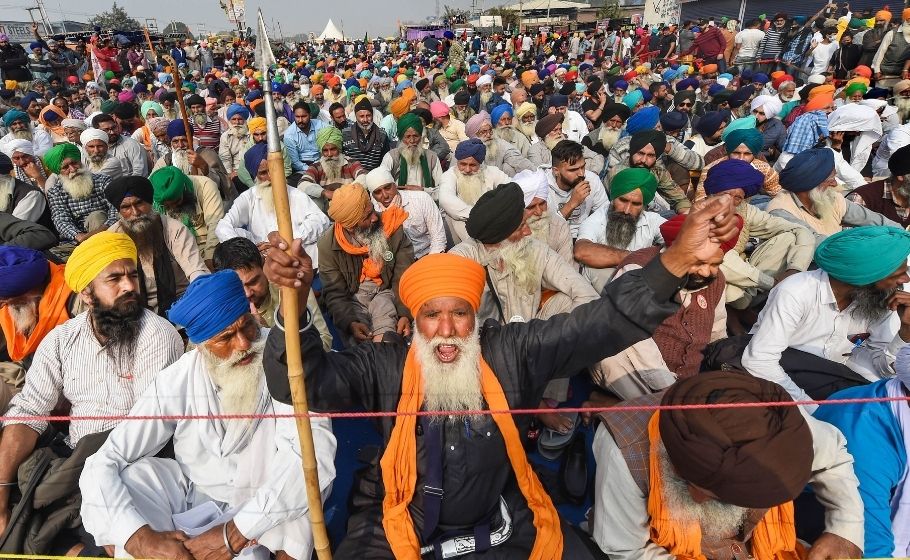 The Centre on Monday (December 28) invited representatives of the farmers protesting at Delhi's borders, for a fresh round of talks at 2 pm on December 30 at Vigyan Bhawan against the farmers' proposal on December 29.
In a letter to farmers' unions, the Agriculture Ministry said the government is committed to resolve the issues faced by farmers over the three laws.
Addressing a meeting of Confederation of NGOs of Rural India, Agriculture minister Narendra Singh Tomar said while the new farm laws have been accepted by farmers across the country, some people have tried to misled farmers' unions about them.
On Saturday, 40 farmers unions while agreeing to resume talks with the Centre, preferably on December 29, said they will proceed only if the government repeals the new laws and guarantees MSP among other demands.
The government's letter to farmers for talks comes on a day when a 55-year-old farmer died of heart attack during a dharna outside the house of BJP district president Yadwinder Singh in Barnala.
The protest at Delhi which is in its fifth week or 33rd day has drawn the support of several political party and unions.
While social activist Anna Hazare has threatened to go on a hunger strike if the demands of farmers are not met by the end of January, Congress leader Priyanka Gandhi on Monday said the government was answerable to farmers and should listen to them and withdraw the contentious laws.
On Monday, leaders of 25 farmers unions handed over a letter in support of the farm laws to Agriculture Minister Tomar.
Prime Minister Narendra Modi who flagged off the 100th Kisan Rail on Monday, said the government is committed to "work to strengthen farmers with full force and dedication."
"Kisan Rail and Krishi Udaan will help farmers to sell their commodities in other states. Kisan Rail has expanded market for farmers…they can now sell their commodities in those parts of the country where the demand for those specific products is more," Indian Express quoted him as saying. "This will empower the farmers by reducing their cost and hence increasing their income," the prime minister said.