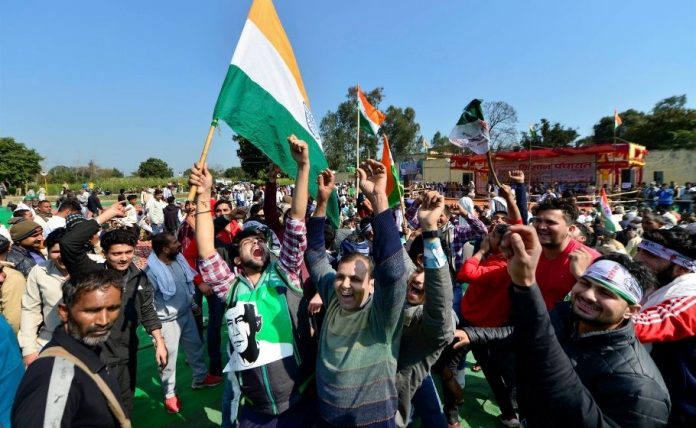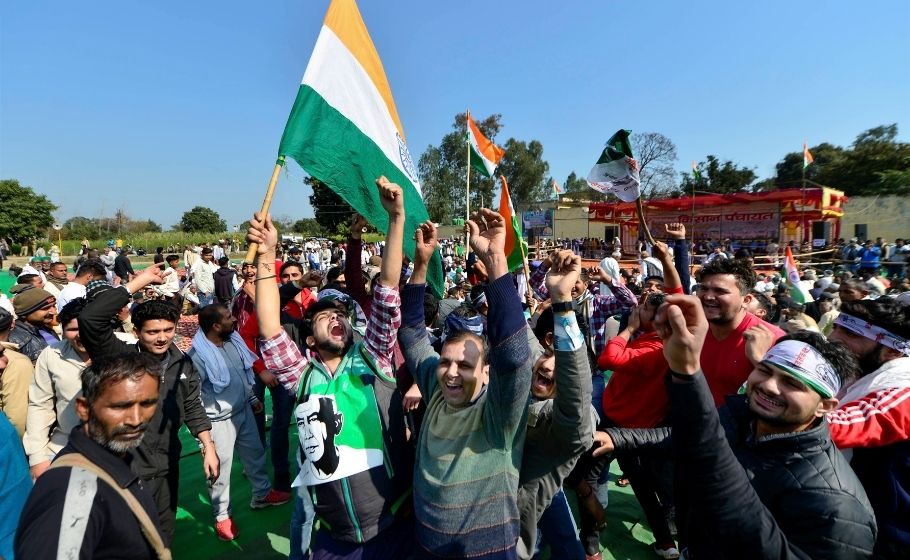 Farmers demanding repeal of three farm laws started the nationwide 'Chakka Jam' (road blockade) around noon on Saturday (February 6) which is expected to continue till 3 pm, as the 'toolkit' declared on Friday.
There are reports of protesters blocking roads and national highways all over the country.
As many as 50 people have been detained near Shaheedi Park in central Delhi for allegedly holding a protest in support of the 'chakka jam' call given by the farmers agitating against the farm laws, police said according to news agency PTI.
Meanwhile, Bharatiya Kisan Union leader Rakesh Tikait said that the farmers' protest at the Ghazipur border will go on till October 2. "The 'chakka jam' is not happening in Uttar Pradesh and Uttarakhand because we have information about miscreants are planning to make this peaceful protest a violent one,' said Tikait.
The farmer unions had declared that the 'chakka jam' will be held everywhere except the national capital.
The Delhi police, however, are not taking chances as they beefed up security at all entry points to the capital. Multi-layer barricades have been put up at Ghazipur to stop vehicles while barbed wires have been fixed to prevent people from walking into Delhi city. The Delhi police have mobilised over 50,000 personnel, including reserve police forces and paramilitary, and tightened surveillance of at least a dozen metro stations. Social media is also under strict surveillance too.
Senior police officers in Haryana are personally supervising traffic and security at important squares and main roads. "It is assessed that as part of the protest, the agitating farmer unions could attempt road blockades of important national and state highways, besides interior roads," said a report quoting Haryana's Additional Director General of Police (Law and Order) Navdeep Singh Virk.
A total of 10 metro stations in Delhi have been closed for commuters. Media reports said the police has also written to the Delhi Metro Rail Corporation to be ready to shutter over a dozen metro stations, in case, within short notice.
On Twitter, Delhi Metro has announced that entry/exit gates Mandi House, ITO, Delhi Gate, Vishwavidyalaya, Khan Market, and Nehru Place stations have been closed. The gates of Lal Quila, Jama Masjid, Janpath and Central Secretariat are also closed but interchange facility is available, it said.
Also read: UN calls for restraint as farmers plan nationwide 'chakka jam'
The preparations come despite the unions' decision to keep off Delhi, Uttar Pradesh and Uttarakhand, according to Samyukta Kisan Morcha (SKM) leaders Rakesh Tikait and Balbir Singh Rajewal. They said on Friday (February 5) that all UTs and southern states would be covered by the 'chakka jam' that begins 12 noon and ends at 3 pm.
The Delhi Police on Friday said adequate security arrangements are in place at borders to prevent any untoward incident and social media contents are under surveillance to prevent the spread of rumours. "In view of the violence that took place on January 26, Delhi Police have made adequate security arrangements at borders so that miscreants don't enter the national capital," said Delhi Police Public Relations Officer Chinmoy Biswal.
Also read: Farmers' protests limited to only one state, says Tomar in Parliament
"We are monitoring content on social media to make sure rumours are not spread against the police. The protesters are camping at the borders of Delhi. We are in touch with police force of other states too," added Biswal.
Tikait has said the nationwide protest will be peaceful.