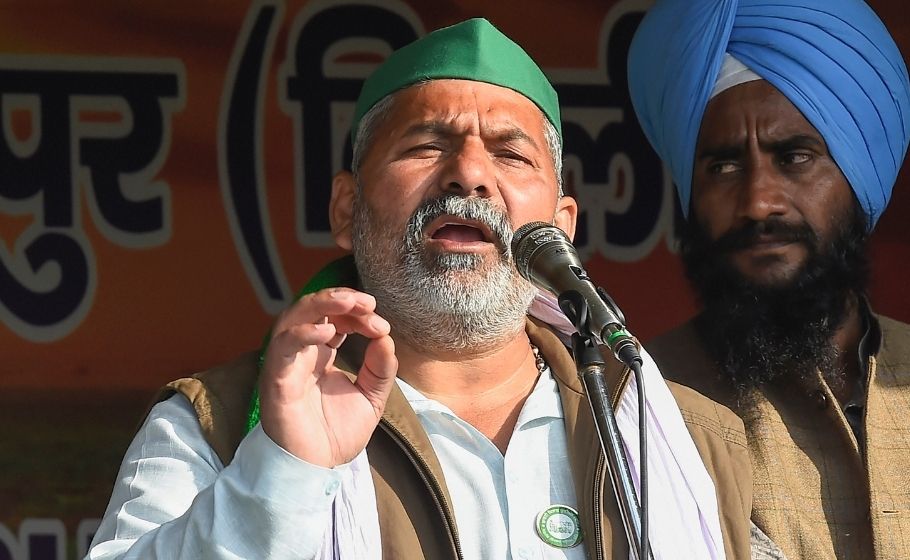 To marshall support for the ongoing farmers protest against the Central government's new farm laws, farmer leader Rakesh Tikait will participate in seven public meetings or kisan mahapanchayats in Haryana, Maharashtra and Rajasthan.
Media reports quoting Tikait's associate said that these big gatherings of farmers, which will continue till February 23, will be part of the outreach programme of the Samyukta Kisan Morcha – the umbrella body leading the farmers protest in the country.
The kisan mahapanchayats, which will help to keep up the momentum of the farmers agitation, are scheduled to be held in Haryana's Karnal, Rohtak, Sirsa and Hisar districts, and Maharashtra's Akola and Rajasthan's Sikar.
Advertisement
The farmers stir began in late November, when thousands of farmers, mostly from Punjab, Haryana and western Uttar Pradesh, set up camp at Delhi's borders demanding that the three new farm laws be repealed and a new law had to be passed to guarantee minimum support price for their crops. But, the Central government refused to budge and took up an aggressive stance after conducting 11 rounds of talks with the protesting farmers unions. They however offered a compromise and promised to defer the farm laws for 18 months. But, the government was firm about not withdrawing the laws because they said it will benefit the farmer.
Also read: Farmers protest: Tensions escalate as tractor burnt at India Gate
The farmers fear that the laws will weaken rules around the sale, pricing and storage of farm produce, which have protected them from the free market for decades. It will threaten concessions they enjoy such as assured prices and will weaken their bargaining power, leaving them vulnerable to exploitation by private companies, farmers felt.
The two-month movement had been dominated by protesters from Punjab and Haryana, who had firmly parked themselves in the bitter cold at the Singhu and Tikri border points into the city. Now, however, the focus has shifted to Ghazipur on the Delhi-Uttar Pradesh border, where farmers are gathering in large numbers to bolster the fight against the government, which seemed to have weakened after the Republic Day violence. After that episode, the farmers' morale had been crushed and they had returned home.
But, 51-year old farmer leader, Tikait, a former police constable, has emerged on the scene and has shown that he wields considerable power over farmers. This Bharatiya Kisan Union (BKU) leader from western Uttar Pradesh, who has been leading the protesters at Ghazipur on the Delhi-UP border, rallied the farmers once again. He had sent out an emotional appeal to farmers, which was captured on video and went viral, not to end their movement until all their demands are met.
Also read: Nails on roads, Twitter ban, trains diverted to stop farmers' agitation
"The protest won't be called off. Farmers are being met with injustice," he said and even threatened to end his life for the cause. Tikait, who served as a head constable had quit the police force in 1992-93, when he had to handle a farmers' agitation led by his father, the legendary Mahendra Singh Tikait.
His emotional post prompted his brother Naresh Tikait to call for a 'mahapanchayat' at their home town in Muzaffarnagar, where tens of thousands of farmers collected in solidarity to back the movement. Now, the protestors at Ghazipur border are reportedly back and the numbers have swelled again. The farmers agitation is back on its feet once again.
The farmers however face massive challenges as their electricity, water and Internet have been cut off, and protesters are being boxed in with elaborate barricades and the roads are strewn with nails. Undeterred, these farmers are banking on their massive mahapanchayats to drum up support for what they believe is a just cause.