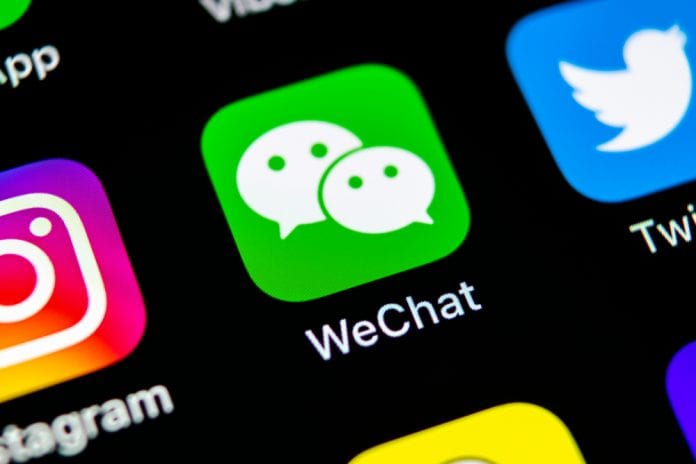 Weeks after India banned Chinese tech giant Tencent Holdings' app WeChat and 58 others in the country citing security concerns, the 'super app' ceased operations in India on Saturday (July 25).
"Pursuant to Indian law, we are unable to offer you WeChat at this time. We value each of our users, and data security and privacy are of utmost importance to us. We are engaging with relevant authorities and hope to be able to resume services in the future," the company posted to Wechat users.
However, the move affected thousands of citizens — entrepreneurs, cross-border traders, seafood, apparel and medicine exporters, startup employees, among others — for whom WeChat was a communication lifeline with Chinese clients.
Since WeChat IDs are random and not a person's email address or phone number, some of the users in India were logged out automatically, making them lose contacts overnight.  
With China banning US-based tech applications like WhatsApp, Facebook, and Google, WeChat was the only reliable platform for people to stay connected for cross-border trade and interaction. The app also remained a primary mode of communication for Tibetans in exile who wished to stay in touch with their families back at home.
Related news: 47 more Chinese apps banned by govt; PUBG likely on the list
Some of the Indians too living in China, whose family members were in India, have been cut off temporarily.
Yusuf Dohadwala, CEO of Intimate Apparel Association of India, whose members are engaged in import and export of innerwear, said that while he loves the idea of being self-reliant (Atmanirbhar), a sudden ban without informing customers could pose a big challenge.
WeChat shutting services as per Indian government's order remains a big setback for Dohadwala's business. "We need to import nylon fabric from China even if we manufacture here. And some of the machines, which are capital intensive, come from China. My entire business could collapse, with the 40-50 people who are working with me staring at job losses if the situation continues," Dohadwala said.  
"In a democracy, it is my right to know why an app is discontinued without prior notice. We will write to the government but they should not mix business with trade and keep political agendas away," he said.
"Where is democracy if I have no right to choose what I want?" he questioned.
He further added that if the government wants to discourage trade, which they have not said so far, they should do so with prior notice and not 'all of a sudden'.
With the growing reliance on US-based players in the wake of the ban on Chinese apps, people are skeptical about the government's move. "What if the government tomorrow bans WhatsApp and asks us to follow Jio for all communications? We cannot keep shifting business from one platform to the other," he said.
People poured their complaints online and asked the Home Ministry to reconsider its decision.
My WeChat is not working and also I can not send any messages to anyone and I'm very disappointed. I am from India. @FinMinIndia @WeChatApp @nsitharaman how should I communicate with my clients? I export seafood from Veraval, India. pic.twitter.com/jPajZX6Gde

— jay (@jaysuyani) July 25, 2020
Siva Kumar (28), a management professional working for a China-based cross-border e-commerce firm said a lot of contacts he had built for his business were on WeChat since Chinese citizens were not familiar with LinkedIn. "I lost those contacts and I have a limited choice now to keep up with my network of people. That said, enterprise communication happens through DingTalk instead," he adds. 
The rise and fall of Tencent
WeChat is just one of the products of Tencent that forayed into India in mid-2012 with much fanfare.
Tencent roped in football legend Lionel Messi, and Bollywood actors like Varun Dhawan and Parineeti Chopra to endorse the product.
WeChat was the first mobile app to launch TV commercials in India. While it acquired 20-25 million users in India within a brief period, the success did not last long. WeChat lost to WhatsApp (owned by Facebook) since the company did not fine-tune its product in the Indian market, but replicated the same model as it was in China. It made an investment again in its rival Hike Messenger, founded by Kavin Bharti Mittal, in 2016.
However, Hike too did not pave the path ahead for Tencent the way WhatsApp did in India. So, Tencent quickly realised its mistake and morphed itself into an investment company rather than focussing on pushing its in-house products.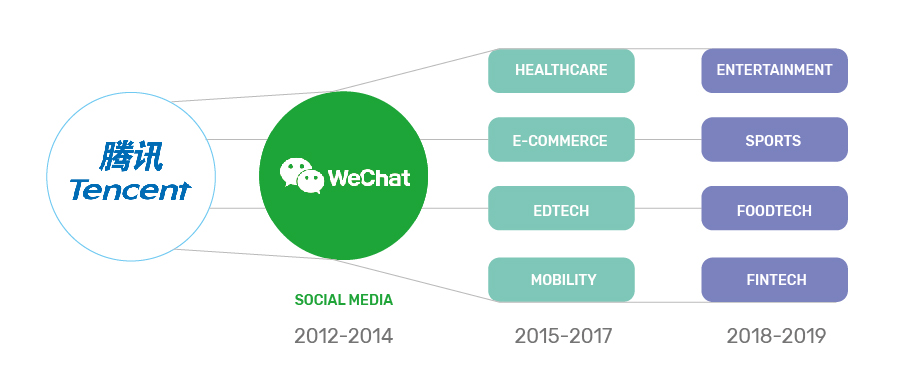 Starting 2015, Tencent dominated the tech investment area and posed a challenge to its Chinese tech rival Alibaba. With Alibaba picking up stakes in leading companies like Paytm, BigBasket, Ola, Zomato, and Xpressbees, Tencent pushed forward its investment agenda at a quicker pace.
Unlike Alibaba, instead of choosing large companies to invest in, Tencent placed its bet on smaller companies that had the potential to go big. They invested across segments from e-commerce to fintech, gaming, healthcare, mobility, and entertainment.
It pumped in money into Practo, Udaan, Byju's, Hike Messenger, Gaana, PolicyBazaar, Flipkart, among others, of which some of them turned out to be unicorns (start-ups valued at over $1 billion) over the years.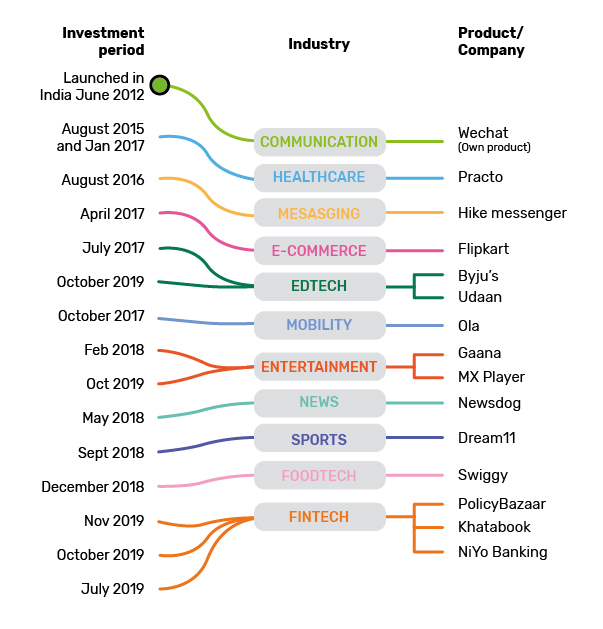 Expressing his views on Twitter, Shaun Rein, Founder of China Market Research Group in Shanghai, said, "Modi has set India back as a FDI destination by 30 years by giving into populist anger. Chinese tech firms have invested 5 billion USD into India in the last few years. That won't come back anytime soon."
However, startup investor Anand Lunia of India Quotient, whose firm invested in Indian startups like ShareChat, Clip (acquired by ShareChat), and Roposo among others, which were competing with the banned Chinese Apps, begs to differ. He says the startup community, being an affluent class, will figure a way out and will not mourn over WeChat stopping its services.
"These platforms were banned because of security concerns. Had they not violated certain rules, as stated by the government, the ban would not be in place. Now the bigger question to ask is, would China open up WhatsApp services in their country if inter-country trade is so critical?" Lunia asked.