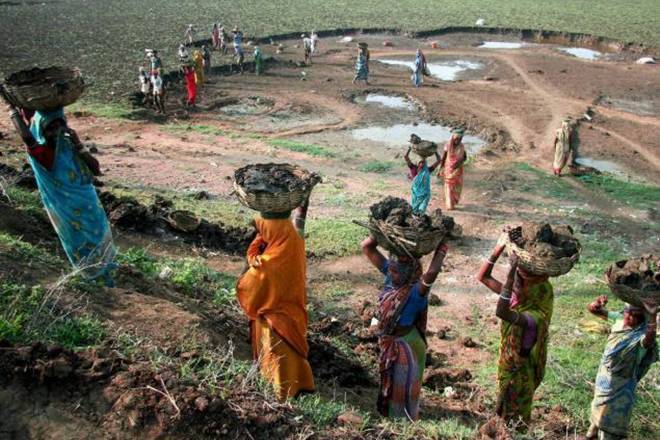 Hundreds of workers under the Mahatma Gandhi National Rural Employment Guarantee Act (MGNREGA) from across India are undertaking a 100-day protest in New Delhi's Jantar Mantar.
Why are they on strike? According to workers and activists, the new digital system is creating impediments to MGNREGA's smooth implementation, with many workers forced to leave it altogether.
Workers say mandatory digitisation has excluded already poor and vulnerable workers from accessing the scheme and its benefits, which has accelerated migration to other nearby towns and urban centres.
The MGNREGA scheme, introduced in 2005, provides 100 days of guaranteed work in over 700 districts across rural India.
Watch: Centre is deliberately attempting to end MGNREGA scheme, say workers
New system creating hurdles
Social activist Sharada Gopal alleged that the new system is creating impediments in MGNREGA's implementation. As per the new norms, the ministry of rural development has made it mandatory to mark attendance through National Mobile Monitoring System (NMMS) App and get two-time stamped and geotagged photographs uploaded on the scheme's portal.
Moreover, the Centre's move to use the Aadhaar-Based Payment System (ABPS) for depositing wages of workers has further complicated the lives of the workers. However, the Centre has decided to continue with the previous payment model till March 31, said Gopal.
Systemic dilution of scheme?
Umesh Meena, a social worker from Alwar, Rajasthan, comparing how the scheme functions under the present government vis-a-vis the previous Congress regime, said: "Although there were hurdles during the Congress regime, it was possible to get our basic issues regarding timely payments addressed. But now, there is complete apathy from the local bureaucracy. Technology should be used as an enabling tool, but in our case (MGNREGA workers), it is acting as a limiting instrument."
The introduction of mobile app (NMMS) to mark attendance has complicated the entire process of seeking wages under the rural employment guarantee scheme. Adding to the workers' woes, the inclusion of Aadhaar-based payment system threatens to exclude many, observed Meena. Despite the fact that over 50% of MGNREGA workers would not be eligible to receive payments under the system, the ministry of rural development came out with this circular, he said.
Also read: MGNREGA demand dip: Sign of better employment rate or rising rural distress?
Inclusive MGNREGA to restrain migration
Talking to The Federal, Dr Amitabh Kundu, senior fellow, World Resources Institute, India, observed that many among the long-duration migrants did return to their villages during the pandemic but latest data (2020-21) shows that the percentage of migrants in rural areas has not gone up since 2007-08.
Significant differences in wages between the out-migrating and in-migrating regions make the migrants return to inhospitable urban environment, notwithstanding the problems of living in slums, health hazards and social and political discrimination. An inclusive MNREGA system can help restrain migration for short or long durations, said Dr Kundu.
"MNREGA is providing employment to vulnerable segments of rural population in most of the states and was a great lifesaver during the pandemic. However, the delay in wage payment forces people, desperately seeking employment and striving for survival, to move to nearby villages or urban centres for short durations. Much of this mobility, however, does not get recorded in the official statistical system since NSS or Census considers duration of six months or more at the place of enumeration necessary for identifying a migrant. Not many among these vulnerable people can move out for a longer duration as that requires economic affordability and networking," said Dr Kundu.
Collateral damage – rural economy
Pleading anonymity, a social activist from Karnataka said: "Historically, mainly men would migrate to cities for work and the women would be at home. After the introduction of this workfare programme (MGNREGA), things became better as there were opportunities for work even for senior citizens."
"Now with the introduction of digital verification, especially the NMMS and ABPS, migration from these villages has resumed. This will not only have adverse consequences such as uncontrolled urbanisation, but also create an imbalance in the rural economy."
She also underlined the urgent need to revise the average national wage rate, which is currently at Rs 218, far below the market rates.
Also read: MGNREGA saved millions during COVID, but Modi did not acknowledge it: Rahul
Digital woes in remote areas
Nandini Gowda from Karnataka is a 'mate' (technically supervisor), under the MGNREGA. "As the workers mostly don't own smartphones, it is the job of the MGNREGA mate to upload the attendance," says Gowda. She said while there is a problem with uploading attendance, primarily due to network connectivity issues, it is also almost impossible to rectify the missed attendance, thereby resulting in loss of a day's wage. "As our region has dense forests, connectivity is a real issue," said Gowda.
The Centre should understand that MGNREGA wages are often the only source of income for some families. The government should work towards speedy disbursement of payments. The workers have already been battling these three contentious issues – recent budget cut of 33%, turning away workers who demand work and dismal wages offered under the programme.
Moreover, the government in two circulars – one in December and the other in January – has turned an employment programme into a survival programme. The Centre's argument of plugging loopholes through digital intervention is not only unsustainable but unreasonable, say activists.