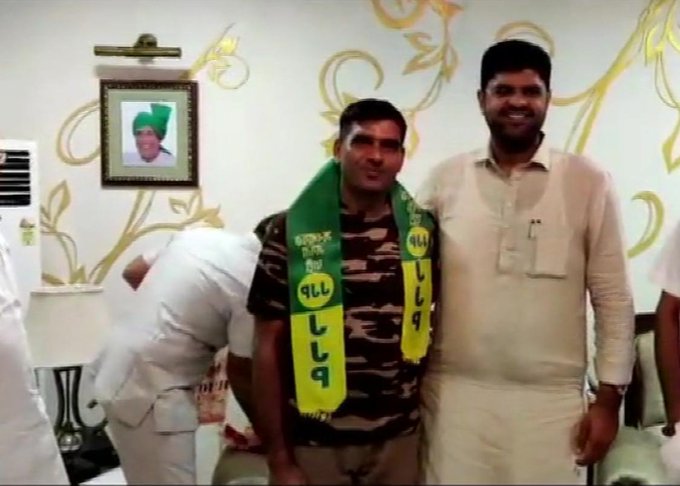 Former BSF jawan Tej Bahadur Yadav, who flared up a controversy after posting a video on social media complaining about the quality of food served to army jawans, on Sunday (September 29) joined Jannayak Janata Party (JJP) led by Dushyant Chautala.
Yadav, who hails from Mahendergarh district in Haryana, said he will contest the assembly elections against Chief Minister Manohar Lal Khattar. "I am thankful to JJP and Dushyant Chautala for nominating me to fight against the Chief Minister from Karnal," said Yadav.
Yadav wants to see Dushyant as the next Chief Minister of Haryana. "I see an image of late Chaudhary Devi Lal in Dushyant and like him, he has a clean reputation", he said.
In the Lok Sabha elections 2019, Yadav was fielded against Prime Minister Narendra Modi in the Varanasi Lok Sabha as a Samajwadi Party candidate. However, his candidature was rejected by the returning officer after he failed to submit a certificate on whether or not he was dismissed from the service for corruption or disloyalty to the government.
Defending himself, Yadav claimed that his nomination was rejected even though he had submitted the NOC (No Objection Certificate).
The JJP, which was founded after a split in Indian National Lok Dal (INLD) headed by Om Prakash Chautala, is contesting the next month's elections alone.
Haryana will go to polls on October 21 and the results will be announced on October 24.