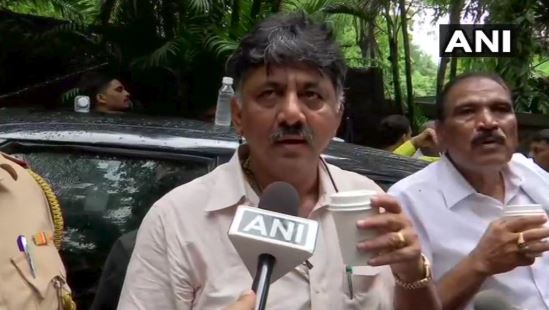 In the backdrop of the Karnataka High Court dismissing Congress leader DK Shivakumar's plea seeking quashing of the Enforcement Directorate's (ED) summons on Thursday (August 30), the law enforcement agency has issued a fresh summon asking him to appear before it on Friday (August 30).
It is to be noted that DK Shivakumar is facing money laundering charges ever since an IT raid on him in 2017.
Commenting on the summons, Shivakumar said that he received the summons on Thursday night around 9:40 pm asking him to appear before 1 pm on Friday in Delhi. He alleged that the IT raids on him were a politically motivated one orchestrated by the Centre for hosting Gujarat Congress MLAs.
"I did what party asked me to do, for which I am being targeted. I have full faith in legal systems & will face this legally as well as politically," he tweeted.
In 2017, when the BJP tried to defeat Sonia Gandhi's close aide Ahmed Patel in the Gujarat Rajya Sabha election, the Congress looked for a safe haven to lodge its 44 MLAs.
The grand old party reached out to Shivakumar, who sheltered them at a private resort on the outskirts of Bengaluru. With the poaching bid failing miserably, Ahmed Patel managed to scrape through the election.
In its aftermath, his premises were raided by the central agencies.
Later in September 2018, the ED registered a money laundering case against him on the basis of alleged tax evasion and hawala transaction deal.
The Congress party fears that another strong leader from its ranks, after former finance minister P Chidambaram, is being targeted by the BJP.