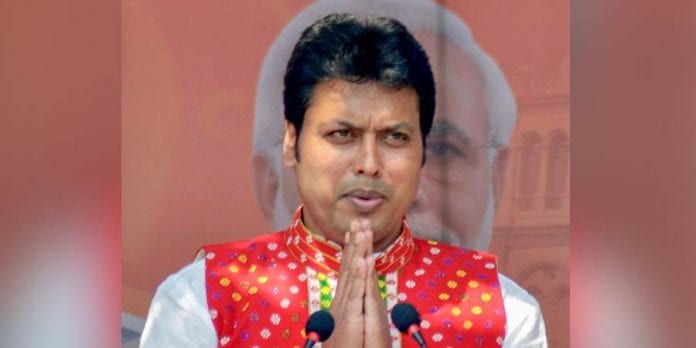 Even as the three-day deadline given by journalists to Tripura Chief Minister Biplab Kumar Deb to withdraw his comments elapsed on Tuesday (September 15), Deb maintained he never tried to hurt or threaten anyone by his speech at Sabroom on Friday and only meant to prevent people from getting misled on COVID-19 by false news.
Related news: Biplab Deb says Punjabis, Jats physically strong but have less brains
"I didn't want to hurt anyone in my speech at Sabroom. I am committed to safeguarding the interests of people of Tripura, keep them safe and healthy, save them from stepping into conspiracies. If I don't say, who will tell? If the chief of the state doesn't speak up, people will assume that whatever is being said is the reality. Often, monkeys are turned into tigers in propaganda. The truth has to be kept before people. I have just tried to present the truth," the chief minister clarified.
Deb, known for his controversial statements, stirred yet another pot when he accused newspapers of trying to confuse people and getting them overexcited on COVID, while speaking at the inaugural ceremony of Tripura's first Special Economic Zone (SEZ) at Sabroom on Friday.
"Some newspapers are trying to confuse people, getting all over excited. History will not forgive them, I shall not forgive them either. History will not forgive them, people of Tripura wouldn't forgive them and I, Biplab Deb shall not forgive them. I do whatever I say, history is testimony to that," he had said.
Taking exception to the allegations, state journalists under the aegis of Tripura Assembly of Journalists, gave the chief minister three days' time to take back his statement. They said the CM's comment was a "threat to press freedom" and if he doesn't withdraw his words, they will take up the issue with Home Minister Amit Shah, the Press Council of India, Tripura Governor RK Bais and the Commonwealth Human Rights Initiative among others.
Deb, while clarifying his statement said the government doesn't act "arrogantly". He also expressed concern over the fact that people with symptoms aren't reporting to healthcare centre and concealing their illness during door-door survey due to fear of being hospitalised.