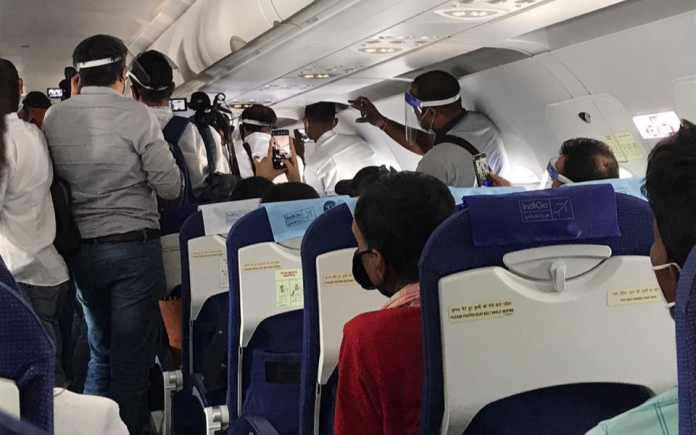 Aviation regulator DGCA on Friday (September 11) asked for a report from IndiGo airlines on the alleged violation of safety and social distancing protocols by mediapersons in its Chandigarh-Mumbai flight that had actor Kangana Ranaut as a passenger.
"We have seen some videos wherein mediapersons are standing too close to each other in the 6E264 flight on Wednesday. It seems to be a violation of safety and social distancing protocols. We have asked IndiGo to submit a report on this incident," said a DGCA official.
Another DGCA official confirmed that the regulator has asked for a report from the airline on this incident.
Ranaut was sitting in one of the front rows of the Chandigarh-Mumbai flight on Wednesday, the official added. Many mediapersons were also onboard the same flight.
In videos that were shared online, reporters were seen speaking into their mics or taking mobile phone videos while reporting for their channels from the plane carrying Kangana Ranaut, who was returning to Mumbai that day amid an ongoing debate with the Shiv Sena-led Maharashtra government.
The videos showed the camera crew wearing face shields, however, the purpose of the face shield was defeated since they did not have masks on and everyone was jostling each other for a better view of Kangana Ranaut.
The media frenzy in Kangana's case intensified after the Brihanmumbai Municipal Corporation (BMC) demolished what it called "illegal alterations" to her office when she was not in town.
As per the Civil Aviation Ministry's social distancing rules issued on May 25, "on arrival at the destination, the passengers should be allowed to exit (the plane) in a sequence so as to avoid any bunching".
In January, Civil Aviation Minister Hardeep Puri had tweeted that "offensive behavior designed to provoke and create disturbance inside an aircraft is absolutely unacceptable and endangers safety of air travellers".
Puri's statement came after comedian Kunal Kamra had tried to interrogate news anchor Arnab Goswami on an IndiGo flight and was subsequently banned from taking flights in the airline for six months.