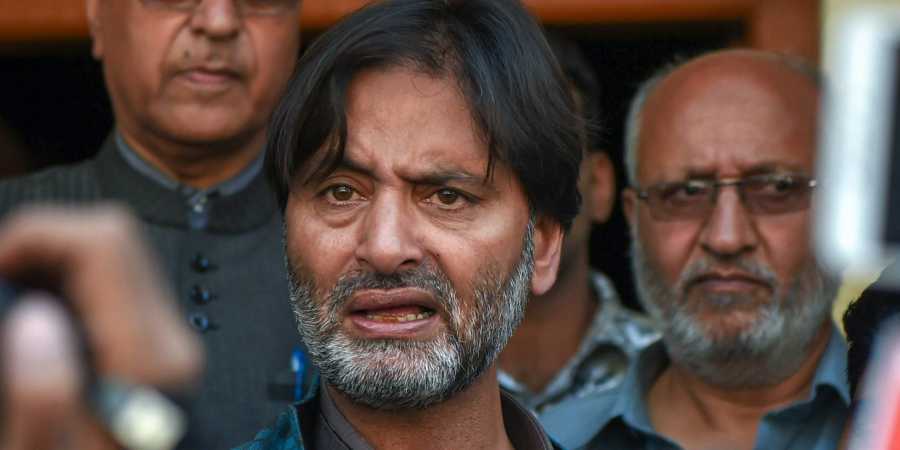 Delhi HC notice to Yasin Malik on NIA plea seeking death in terror funding case
The Delhi High Court has issued a notice to separatist leader Yasin Malik on a plea by the National Investigation Agency (NIA) seeking death penalty for him in a terror funding case. The Jammu Kashmir Liberation Front (JKLF) chief is currently serving the life term.
The Bench of Justices Siddharth Mridul and Talwant Singh also issued warrants to produce Malik before it on August 9.
Solicitor General Tushar Mehta, who appeared for the NIA, argued that Malik engaged in terrorist and secessionist activities and should be awarded the death penalty as it should be treated as a rarest of rare case.
Also read: NIA raids in 6 states in cases related to narco-terror-gangster nexus
The court noted that Malik, the sole respondent in the appeal, had pleaded guilty to a charge under Section 121 IPC, which provides for an alternate to the death sentence. Hence, "we issue notice to him… to be served through the jail superintendent," the court ordered.
Let warrants be issued for his production on the next date of hearing, it added.
Trial court's order
On May 24, 2022, a Delhi trial court awarded Malik life imprisonment after holding him guilty of various offences under the stringent Unlawful Activities (Prevention) Act (UAPA) and the IPC.
Malik pleaded guilty to the charges, including those under the UAPA, and he was convicted and sentenced to life imprisonment.
In its plea before the high court for the enhancement of the sentence to death penalty, the NIA said if dreaded terrorists are not given the capital punishment because they plead guilty, there would be a complete erosion of the sentencing policy and terrorists would have a way out to avoid capital punishment.
Also read: India says criticism of judgment on Yasin Malik 'unacceptable'
A life sentence, the NIA asserted, is not commensurate with the crime committed by terrorists when the nation and families of soldiers have suffered a loss of lives, and that the trial court's conclusion that Malik's crimes did not fall within the category of the rarest of the rare cases for the granting of death penalty is ex-facie legally flawed and unsustainable.
(With inputs from agencies)