Normal rain projection during June to September may result in a bountiful kharif crop. However, a delayed monsoon may impact crop choices and area sown under different crops. Representational image
Normal rain projection for June to September may result in a bountiful kharif crop. However, a delayed monsoon may impact crop choices and area sown under different crops, according to a survey.
Agrisk Data Analytics Pvt Ltd's survey titled 'Sowing Intention 1st Estimates' under 'Kharif Crops in Focus – 2022-23' said that sowing of kharif crops is expected to start in full flow from the third week of June in most of the states.
Also read: Centre hikes MSP for kharif crops by 4-9% for 2022-23; paddy up by Rs 100/qtl
Agrisk said it has a panel of more than 15,000 farmers which is spread across 100-plus districts in India. Using its panel, Agrisk surveyed key kharif farmers in nine states to get initial estimates of kharif 2022-23.
"Kharif crop estimates are based on survey done as of 8 June and development of any unfavourable or favourable event during the sowing window may change the course of the season's crop matrix," Agrisk said.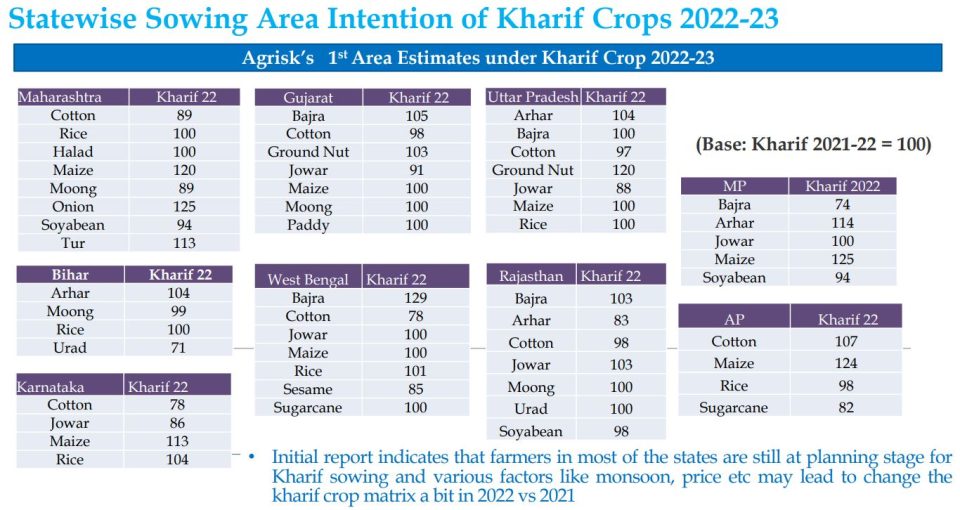 The kharif area in 2021-22 was 1,086.32 lakh hectare and the estimate for 2022-23 is an increase of 1-3% from the previous year area.
Govt's estimates
As per the Centre's 3rd Advance Estimates for 2021-22, the production of food grains in the country is estimated at a record 314.51 million tonnes, which is 3.77 million tonnes higher than the production during 2020-21. The production during 2021-22 was 23.80 million tonnes higher than the previous five years' (2016-17 to 2020-21) average production of food grains.
Also read: Increase in MSP of kharif crops will empower farmers: PM Modi
As per the survey, initial sowing indicates a significant drop in oilseeds. Initial signs of farmers' sentiments for acreage under kharif crop for the coming season are encouraging so far. In most of the states, sowing is expected to surpass last year's area coverage under kharif crops.
Initial sentiments indicate that rice, arhar dal, groundnut, sunflower, castor, bajra and maize are some of the key kharif crops which will register higher acreage in kharif 2022-23 compared to last year, the survey results showed.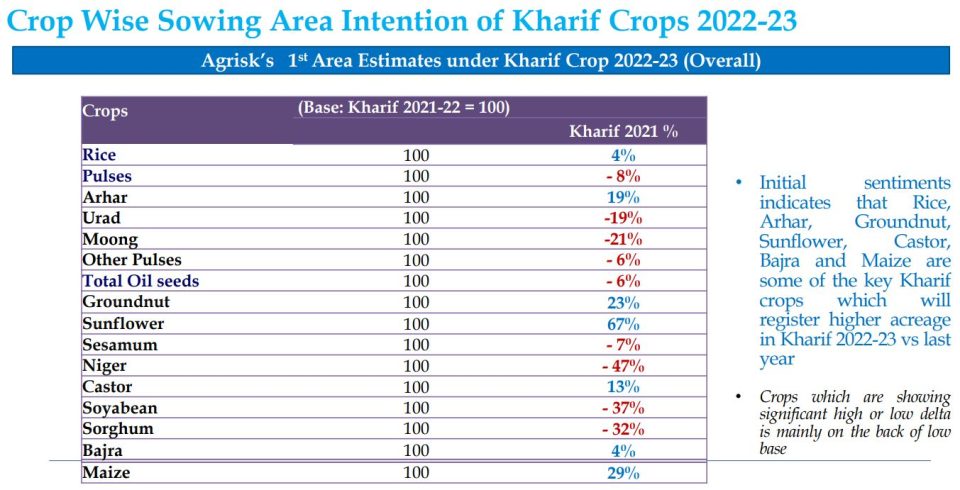 As per the data released by Agrisk, initial reports indicate that farmers in most of the states are still in the planning stage for kharif sowing and various factors like monsoon, price etc. may lead to change the kharif crop matrix a bit in 2022 as against 2021.
Farmers' concerns
The majority of farmers in all the surveyed states reported concerns over the shortage of agri inputs, especially urea, which can plague kharif crop prospects.
Among the farmers surveyed, overall, 57% said they will face a shortage of agri inputs, with Bihar leading with 100% among the seven states in the survey. Gujarat was the lowest at 28%.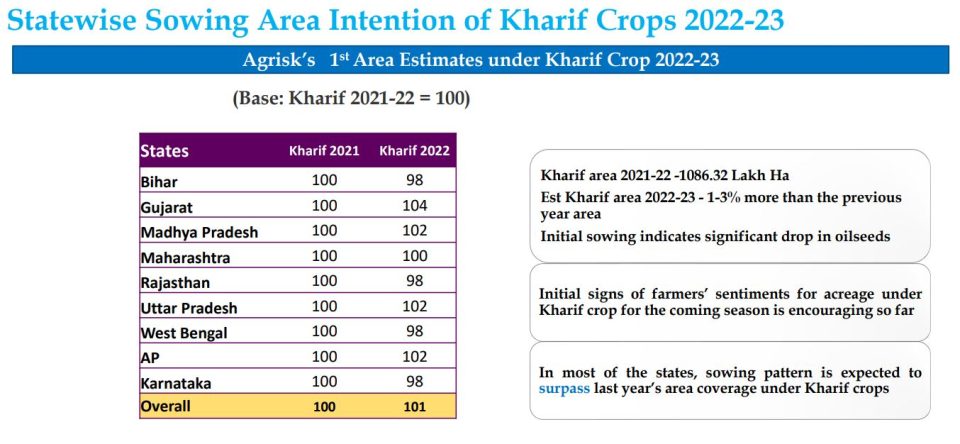 According to the farmers who were surveyed, factors which may impact kharif crops this season include status of seeds availability in the market, availability of urea in a few markets, and delay in monsoon. A longer gap in monsoon will change the crop pattern; the farmers are expecting a delay by eight to nine days. Another factor taken into consideration is current demand and market price.
As per the survey, kharif crops acreage prospects will increase on the expectation of good monsoon and better price. Also, increased Minimum Support Prices (MSP) of the 17 key crops at different levels may also lead farmers to rethink their crop plan for the season.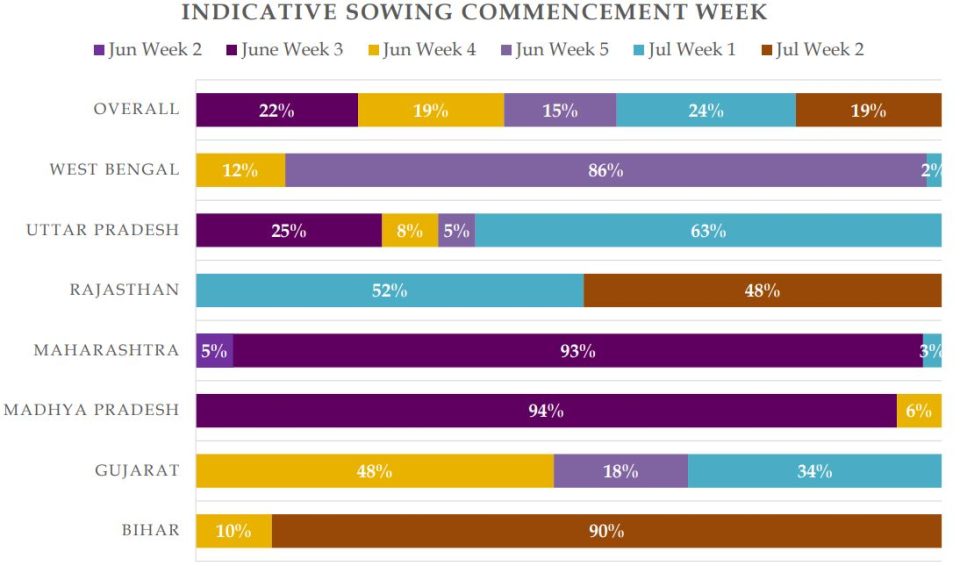 The availability of agri inputs including quality seeds and fertilisers, especially urea, will also influence crop planning. As per the survey, for the kharif 2022 season, 179.01 lakh tonnes is the "assessed" requirement. Last season, 154.02 lakh tonnes of urea were sold.
More clear estimates of the area sown under kharif crops will come towards the end of June or first week of July, the survey said.
Earlier this month, the Cabinet Committee on Economic Affairs (CCEA) chaired by Prime Minister Narendra Modi approved the increase in the MSP for all mandated kharif crops for the marketing season 2022-23.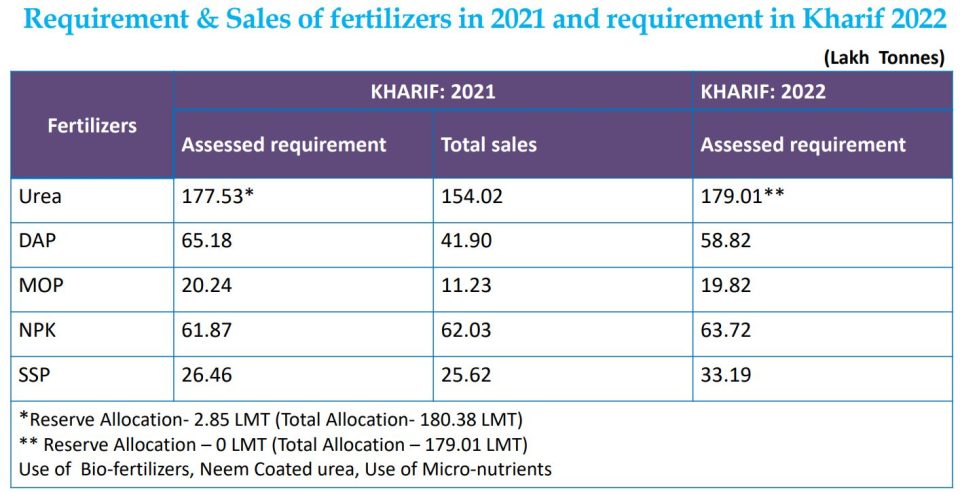 Increase in MSP of kharif crops
The Centre said it has increased the MSP of kharif crops to ensure remunerative prices to the growers for their produce and to encourage crop diversification.
"The increase in MSP for kharif crops for Marketing Season 2022-23 is in line with the Union Budget 2018-19 announcement of fixing the MSP at a level of at least 50 percent over the All-India weighted average Cost of Production, aiming at reasonably fair remuneration for the farmers. It is notable that, return over MSP for bajra, tur, urad sunflower seed, soybean and groundnut is more than 50 percent over the All-India weighted average Cost of Production at 85%, 60%, 59%, 56% , 53% and 51% respectively," the Union government said on June 8.
"Concerted efforts have been made over the last few years to realign the MSP in favour of oilseeds, pulses and coarse cereals to encourage farmers to shift larger area under these crops and adopt best technologies and farm practices, to correct the demand-supply imbalance," it added.