Taking cognisance of the exclusive news report on The Federal that Prime Minister Narendra Modi's speech was not telecast live, on Monday (September 30), by the Tamil Nadu wing of Doordarshan, authorities suspended Doordarshan Podhigai Assistant Director (Programme) R Vasumathi, on Tuesday (October 1), for dereliction of duty.
Prime Minister Modi was at Madras-IIT to participate in two events namely the Singapore-India Hackathon and the 56th annual convocation of the Indian Institute of Technology.
A suspension order against Vasumathi was issued, with immediate effect, in exercise of the powers conferred by sub-rule (1) of Rule 10 of the Central Civil Services (Classification, Control and Appeal) Rules, 1965.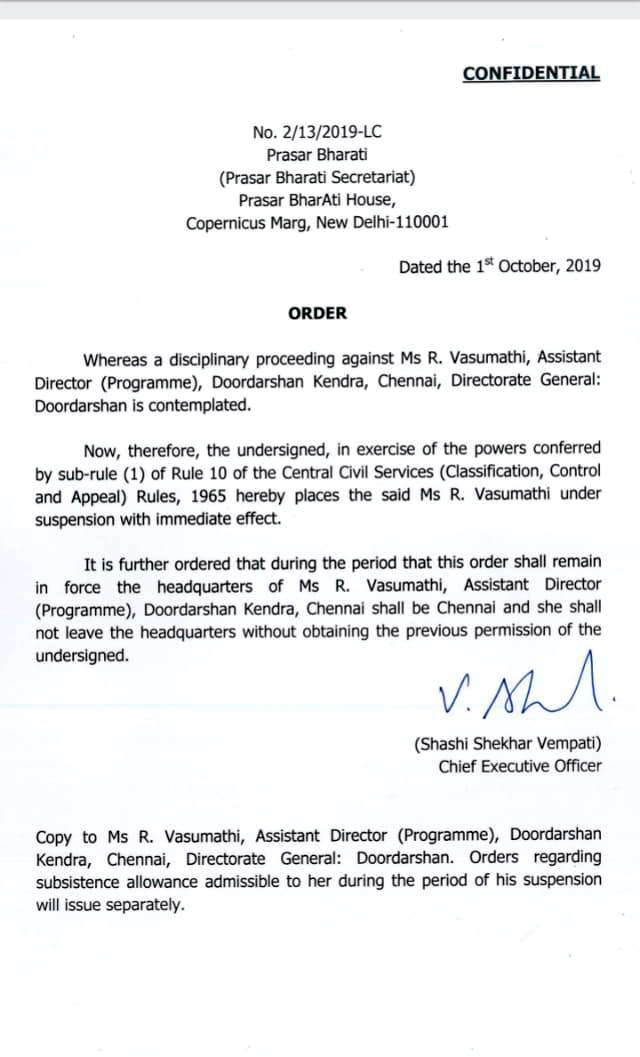 According to sources, Doordarshan Kendra, Chennai, was telecasting a Tamil song and a drama while Modi was delivering his speech at both the events.
On Monday, the Prime Minister's Office (PMO) had asked for an explanation from Union Minister for Information and Broadcasting Prakash Javadekar after which a joint secretary had reportedly spoken to senior officials at the Doordarshan Kendra in New Delhi.
Also read: Modi speech not telecast live on DD Podhigai; PMO raps I&B ministry
In its defence, DD Podhigai said that they faced difficulties in telecasting the speech live as their crew was barred from the venue.
However, it was confirmed by The Federal that the entire event was shot by a DD Podhigai team in Chennai with additional support from a Bengaluru crew.
A crew member said that the speech's live stream on DD News was shot by the team. "As many as 16 camerapersons worked for the two events of the Prime Minister. We did not know why DD Podhigai did not telecast the speech live," said a crew member.
DD Podhigai Additional Director (Editorial) Vijayan confirmed that the entire speech of the Prime Minister was carried as a news item and that it was not telecast live.
"We did not telecast the Prime Minister's speech live. It was carried on DD National since it was a national event and so that it has a national outreach. But we did carry it as a news item on DD Podhigai. We have never carried news of national relevance in our region," he said.
On the contrary, DD Podhigai Director (News) M Annadurai claimed that the PM's entire speech was telecast live and that there was no issue regarding this.