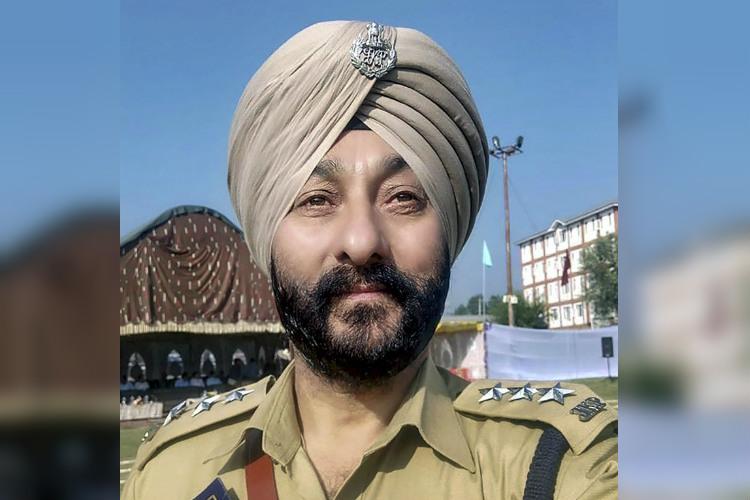 Following the arrest and suspension of Deputy Superintendent of Police (DSP) Davinder Singh, his family has claimed that he is a nationalist who has faced bullets as part of his duty.
With the high-profile case being handed over to the National Intelligence Agency (NIA) and Singh's alleged militant connections in question, his kin insist that he has been trapped.
As the Federal navigated several by-lanes in Srinagar's Indira Nagar locality where Singh recently constructed a three-storey house – a stone's throw away from Indian Army's sensitive GoC 15 Corps, at Badami Bagh cantonment, none wanted to speak about the case.
Most of the neighbours said, since their family has shifted to the locality very recently, they do not know them well.
The new house belongs to Singh's brother-in-law, Dr Beant Singh. And when the Federal visited the house, Singh's sister-in-law agreed to talk, albeit briefly.
Also Read: NIA to probe case of J&K DSP caught while ferrying three terrorists
Expressing their family's plight since Singh's arrest, she said, "entire family is in shock over what the media channels are showing. He (Davinder Singh) has been trapped (by the State). He has always been a proud Indian who has faced bullets for the country."
Adding that her brother-in-law, Davinder Singh, was hit by bullets while fighting militancy in Kashmir due to which he would limp, she said work was paramount to Singh.
She also claimed that Davinder is on the hit-list of militants.
"How can a person of his stature be a traitor and be linked to militancy?" she asked, implying that Singh has been made a scapegoat.
According to the family, Singh has not visited his ancestral home in south Kashmir's Tral for the last three decades. Tral is also the hometown of former militant commanders Burhan Wani and Zakir Musa.
The family maintains that Singh has neither attended extended family weddings nor mourning events in Tral.
Questioning the media's coverage of Singh's arrest and suspension, Singh's sister-in-law said, "he has a daughter and a son, but the media channels are saying that two of his daughters are studying medicine in Bangladesh."
Refuting the reports that Singh's family has fled India, she also added that Singh's wife had gone to visit the Gurdwara at Chati Patshahi in Rainawari, Srinagar, along with her son.
"Guests visit us on a regular basis, please write the truth," she added.
Substantiating the claim, the local priest (Granthi) told the Federal that DSP Singh's wife and son would often visit the Gurudwara and the police officer would come occasionally.
Also Read: Is arrested J&K police officer an operative gone astray?
"I do not know him personally, but whenever he would come here to worship we would exchange greetings smilingly. Beyond that I do not know anything," the priest added.
A young shopkeeper in the area, from whom Singh would buy essential items, said that he would often see the DSP in his Scorpio.
"If you ask me, he (Singh) was very friendly," the shopkeeper said.
Contradicting his statement, another shopkeeper said that most people, including himself, feared the officer because of who he was.
"He was very arrogant and impulsive," he said.
After the extensive media coverage and limelight the case received, people in Indira Nagar remain wary of talking about him.