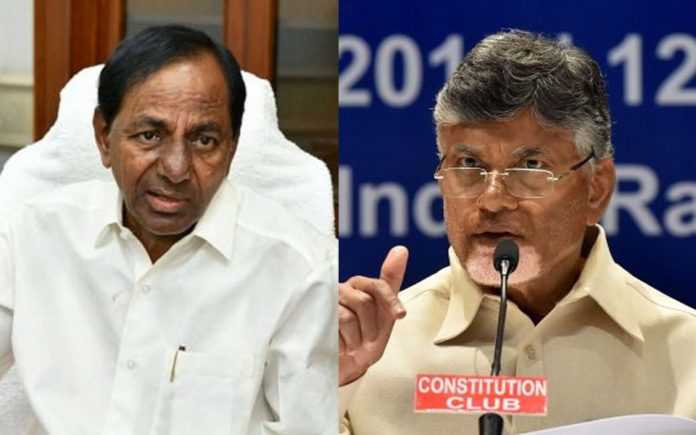 Ex-Navy Chief Ramdas rubbishes PM Modi's INS Virat misuse statement
Former Navy chief Admiral Ramdas has issued a statement saying that Prime Minister Narendra Modi's take that there was misuse of aircraft carrier INS Viraat by then PM Rajiv Gandhi is wrong. He said Rajiv Gandhi boarded the aircraft carrier in his official capacity in Trivandrum, Kerala, and there were 'no foreigners' with him. The aircraft carrier and four other ships had been detailed for fleet exercises, the statement said.
CMs of Telugu states jostling for kingmaker role post-elections
After Telangana Chief Minister K Chandrasekhar Rao's renewed mission to build support for the Federal Front, it is now the turn of his bete noire and Andhra Pradesh counterpart N Chandrababu Naidu to position himself as a potential kingmaker in the formation of the next government at the Centre. Naidu's back-to-back meetings with Congress president Rahul Gandhi and Trinamool Congress supremo Mamata Banerjee on May 8 and his subsequent participation in election rallies in West Bengal in support of Trinamool candidates reflect the urgency of his mission to bring together all non-BJP parties on a single platform.
HC nod to hold remembrance meet for Sterlite protesters
The Madurai bench of the Madras High Court has given permission to hold a memorial meeting to mark the first death anniversary of 14 people who died in police firing as part of the Sterlite protest on May 22, 2018, in Thoothukudi. The court said the meeting should be held between 9 and 11 am and not more than 250 people should participate. Social activist Fathima Babu requested permission from the HC after the Thoothukudi police denied permission citing the model code of conduct.
SC sticks to its two judge nominees, rejects Centre's objection
The Supreme Court collegium on May 9 rejected the Centre's objection to the elevation of two judges to the apex court. The collegium had on April 12 recommended Justices Aniruddha Bose and AS Bopanna for elevation to the Supreme Court. In addition, it had also recommended Justices BR Gavai and Surya Kant for elevation. The collegium consists of the five senior-most judges of the Supreme Court.
Airline firms can soar if government loosens its grip
India has become a graveyard for domestic airlines. At least three big and six to seven smaller airlines have closed down in just over a decade. Many believe that if airlines in the West can turn around, so too can airlines in India. Unfortunately, such turnarounds are unlikely in India. The Indian government and politicians have always viewed flying as a luxury and hence reforms in the sector are on the slow track.
SC turns down plea against release of Rajiv Gandhi case convicts
The Supreme Court on May 9 dismissed a plea against the release of the seven Rajiv Gandhi convicts. The pleas were filed by Congress leader Americai Narayanan and Rama Sugandhan, the son of a policeman who died in the bomb blast which killed Rajiv Gandhi on May 21, 1991.
SC scraps plea seeking to debar Rahul Gandhi from contesting LS polls
The Supreme Court on May 9 dismissed a plea seeking direction to the Centre and the Election Commission to debar Congress president Rahul Gandhi from contesting Lok Sabha elections till the issue of his citizenship is decided. A bench headed by Chief Justice Ranjan Gogoi rejected the contention of the petitioners, Jai Bhagwan Goyal and Chander Prakash Tyagi, who said that in a form along with the annual data of a UK-based company in 2005-06, it was allegedly mentioned that Rahul Gandhi is a British citizen.
PM, Shah plan rally blitzkrieg in eastern UP
Faced with the prospect that the non-yadav, non-jatav dalit coalition is coming apart, the BJP has planned a blitzkrieg of Modi-Shah rallies in eastern UP where 27 crucial seats are going to polls in the remaining two phases. This coalition had helped the BJP win the 2014 elections. Voting for 425 Parliamentary seats out of the total 543 seats of the country is over with the fifth phase of polling.
Freedom fighter's dream stands dilapidated
A school founded by freedom fighter Parali Su Nellaiyappar is in ruins. A stranger may mistake Parali Su Nellaiyappar Municipal Primary School', for an abandoned cattle shed. The 40-year-old school, which has remained closed for the last 20 years, is located on Nellaiyappar street, Chromepet in Chennai. Bearing a rich legacy linked to the region's contribution to the freedom struggle, the dilapidated structure symbolises the collective apathy towards native history. The school was built on the land located in Bharathipuram in Chromepet and was owned by the late freedom fighter Parali Su Nellaiyappar, who was closely associated with Tamil poet and freedom fighter Subramanya Bharathi and VO Chidambaram Pillai, the first lndian to launch indigenous shipping services between India and Colombo.
North Korea says weapons drill was defensive, criticizes Seoul
North Korea on May 9 described its firing of rocket artillery and an apparent short-range ballistic missile over the weekend as a regular and defensive military exercise and ridiculed South Korea for criticizing the launches. North Korea's official Korean Central News Agency (KCNA) published a statement by an unnamed military spokesman who called South Korea's criticism a "cock-and-bull story," hours before senior defense officials from South Korea, United States and Japan met in Seoul to discuss the North Korean launches and other security issues. A separate statement by a North Korean foreign ministry spokesman described the launches as a "routine and self-defensive military drill."
Cameron lauds Marvel team, calls 'Endgame' the iceberg that sank 'Titanic'
James Cameron on Thursday May 9 compared the phenomenal success of 'Avengers: Endgame' to an iceberg after it surpassed the earnings of his 1997 classic 'Titanic' at the box office. "To Kevin and everyone at Marvel. An iceberg sank the real Titanic. It took the Avengers to sink my Titanic. Everyone here at Lightstorm Entertainment salutes your amazing achievement. You've shown that the movie industry is not only alive and well, it's bigger than ever!" Cameron wrote in an Instagram post. He also shared a photo of the Avengers logo rocking Titanic.
Can 'Bihari Babu' protect his turf, Patna Sahib with theatrics?
Once an ardent admirer of Prime Minister Narendra Modi, Shatrughan Sinha, the actor-turned-politician from Bihar, today is a staunch detractor of the PM and his party. A two-time BJP MP from the Patna Sahib constituency, Sinha has shifted his allegiance to the Congress and will contest as the party's candidate from the same constituency. He is a crowd-puller at public rallies. But Sinha's 'Bihari Babu' may not get him votes, especially when he is pitted against the strong Ravi Shankar Prasad, the BJP candidate from the kayastha community (from which Sinha also hails), who may split his votes.
SC scraps plea of sacked BSF jawan over rejection of LS nomination
The Supreme Court on May 9 rejected sacked BSF jawan Tej Bahadur Yadav's plea challenging the Election Commission's decision to scrap his nomination papers from Varanasi Lok Sabha seat to contest against Prime Minister Narendra Modi. A bench headed by Chief Justice Ranjan Gogoi said, "We do not find any grounds to entertain the plea of Yadav."
Emilia Clarke to star in Bjorn Runge's 'Let Me Count the Ways'
'Game of Thrones' star Emilia Clarke will be teaming up with filmmaker Bjorn Runge for his next project, Let Me Count the Ways. Runge, who most recently helmed Glenn Close-starrer 'The Wife', will direct the romance drama from a script by Paula Milne, reported Variety.Fors of Telugu states jostling for kingmaker role post-elections