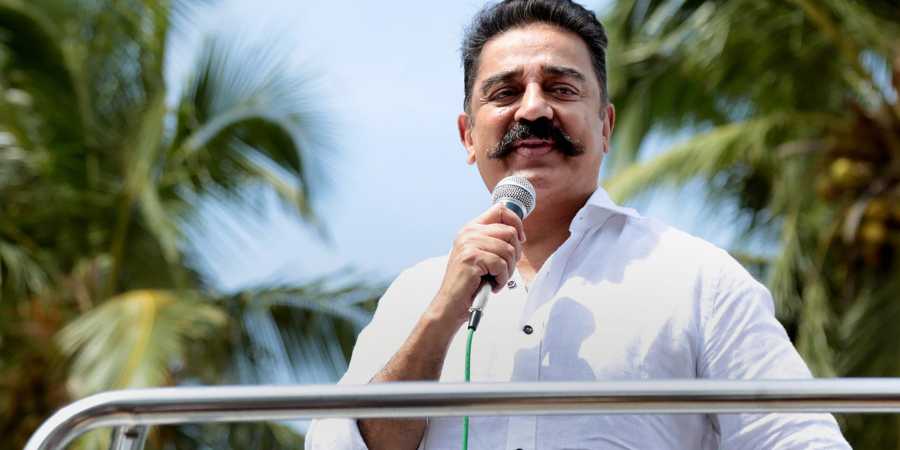 Supreme Court to hear bail plea of Priyanka Sharma
The Supreme Court is scheduled to hear the bail plea of BJP youth wing worker, Priyanka Sharma, on May 14 (Tuesday). Sharma, the Howrah District Club Convenor of BJJM, was arrested by the TMC government in West Bengal for allegedly posting a morphed picture of the state Chief Minister Mamata Banerjee. Currently under 14 days police custody, she has been accused of posting an image of Mamata's face photo-shopped on Priyanka Chopra's Met Gala look on her Facebook account.
Kamal says India's first terrorist was Hindu, raises a ruckus
It looks like actor and politician Kamal Haasan is far from ending his fixation with Mahatma Gandhi. Stirring a new controversy, Makkal Needhi Maiyam (MNM) founder and actor Kamal Haasan has said free India's 'first terrorist was a Hindu', referring to Nathuram Godse, who killed Mahatma Gandhi. Addressing an election campaign at Aravakurichi, which is set to go for bypolls on May 19, the actor-politician said he was one of those 'proud Indians' who desires an India with equality and where the 'three colours' in the tricolour, an obvious reference to different faiths, 'remained intact.' "Free India's first terrorist was a Hindu, his name is Nathuram Godse. There it (terrorism, apparently) starts," he said in the rally.
Odisha seeks 5 lakh PMAY houses for cyclone-hit people
The Odisha government on Monday (May 13) urged the Centre to sanction at least five lakh houses under the Pradhan Mantri Awas Yojana (PMAY) as the extremely severe cyclone Fani which hit the state on May 3 has damaged lakhs of kutcha houses in its coastal region. According to preliminary estimation, five lakh houses have been completely or substantially damaged across 14 districts with the major loss occurring in Puri district. In a letter to Prime Minister Narendra Modi, Chief Minister Naveen Patnaik wrote, "I would request you to kindly consider sanctioning five lakh PMAY special houses initially for the state of Odisha."
ALSO READ: Help remains a far cry in Fani-ravaged Odisha
Meanwhile, even a week after the tragedy, Sheshadeba Nayak still can't get over it. Sheshadeba of Kuapada village in Brahmagiri area, located right on the banks of the famous Chilika Lake, is among the thousands of people living close to the coast in Puri district who had lost all touch with the outside world since the previous evening as power and telecom links had snapped after the wind started gathering speed.
Stalin asks KCR to support Congress; AIADMK says rival ready to jump ship
Telangana Chief Minister K Chandrasekhar Rao met DMK leader MK Stalin at his Alwarpet residence in Chennai on Monday evening as part of the former's ongoing efforts to create a federal front. DMK sources said the meeting went on for about an hour. Congress sources said they had asked DMK to urge KCR to to support the party [Congress] during the meeting on May 13, which the DMK did, according to sources in that party. Stalin apart, DMK treasurer Durai Murugan and principal secretary TR Baalu too attended the meeting. This is the second time KCR is meeting Stalin in Chennai in the past one year. The last meeting with Stalin was in April 2018.
Assam: How a group offering namaz on road led to a communal clash, 1 death
The residents of Hailakandi, a small town nestled in the heart of Assam's Barak Valley, don't remember when the SS Road market last wore a deserted look, especially during the month of Ramzan. Hailakandi, which also happens to be the headquarters of the district, has a mixed population of Bengali-speaking Hindus and Muslims apart from a number of communities such as Meiteis, Kukis, Reangs, Chakmas as well as Marwaris. Three days after a communal clash broke out over offering namaz, there was an uneasy calm across the town with most shops and commercial establishments shut on Monday (May 13) even as Rapid Action Force personnel patrolled the streets. An indefinite curfew that was imposed in the district was relaxed for three hours on Sunday, even though internet services remained suspended in the entire Barak valley.
Drought-hit farmers in K'taka have to wait for new govt for relief
Karnataka, which is reeling under severe drought, may have to wait till a new government comes to power at the Centre in order to get approval for relief package, according to sources. Already, a central team has assessed the extent of damage caused to the 2019 rabi crops due to drought in the state and submitted a detailed report to the Union Agriculture Ministry. The state government in its memorandum to the Centre has sought a financial assistance of ₹2,064 crore to provide relief to farmers hit by drought during the rabi season.
Sri Lanka blocks social media after unrest
The Sri Lankan government on Monday (May 13) blocked social media following rising tensions between the minority Muslims and majority Sinhalese in the wake of the Easter Sunday bombings which killed nearly 260 people. The blockade comes a day after Sri Lankan police imposed curfew in the country's western coastal town of Chilaw where a mob attacked a mosque and some shops owned by Muslims in a dispute that started on a Facebook post by a Muslim shop owner. The blockade of Facebook and WhatsApp has been imposed form midnight following violent incidents between the minority Muslim and majority Sinhalese communities, officials said.