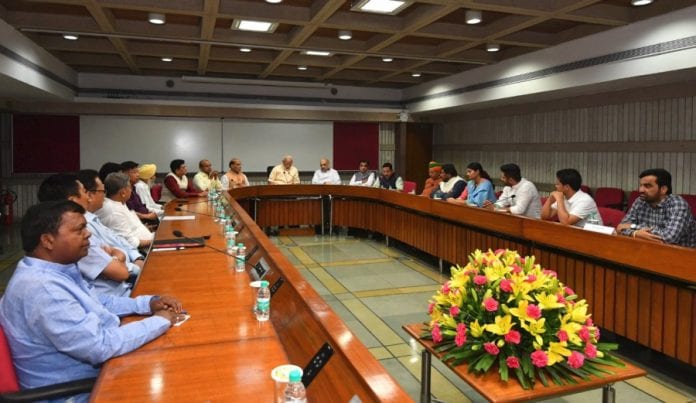 World Cup jinx remains as India beat Pakistan by 89 runs
India clinched an easy victory against Pakistan, defeating the rival-neighbours by 89 runs in a much-awaited high-profile match at the Old Trafford, Manchester on Sunday (June 16). India vs Pakistan has long been the marquee match of cricketing history, with the two countries sharing a long and, at times, bitter rivalry. The two sides have had a back and forth win-loss ratio for their ODI face offs. When it comes to World Cup, however, Pakistan is yet to register a win with India winning all of their previous face offs.
Why street fighter Mamata could be her own nemesis
Advertisement
Mamata Banerjee prides herself as a product of protest. She never misses an opportunity to remind how she doggedly fought the once mighty and well entrenched Left Front, and vanquished it. She was then a challenger, and naturally the fire and the flux image held her in good stead, and even helped her metamorphose into an incumbent. Now, she is no longer a challenger. She is the all-powerful ruler. But Banerjee is finding it difficult to cope with this role reversal. Whenever, she is confronted with or challenged, almost as a reflex reaction, she becomes combative and plays victim. As a chief minister, Banerjee cannot afford to be seen as the one who has been wronged. She should be the one delivering the justice. Unless the chief minister realises this and stops playing victim and blames others for the problems confronting her, the traits that held good for her in the past could well be her nemesis in future.
Modi invites party chiefs to deliberate on 'one nation, one election' issue
Chairing an all-party meeting on the eve of the first session of the new Lok Sabha, Prime Minister Narendra Modi on Sunday invited heads of all parties to a meeting on June 19 to discuss the "one nation, one election" issue and other important matters. Noting that there are many new faces in this Lok Sabha, Modi said the first session of the Lower House of Parliament should begin with "fresh zeal and new thinking". Addressing the media after the meeting, Parliamentary Affairs Minister Prahlad Joshi said the PM urged leaders of all parties to "introspect whether members of Parliament are able to fulfil peoples aspirations as their representatives and the manner in which last two years of the 16th Lok Sabha were wasted". An all-party meeting is a customary procedure before the beginning of every session of Parliament to ensure its smooth functioning.
Mamata can choose venue, but meeting should be held in open, say docs
Agitating junior doctors in West Bengal softened their stand on Sunday (June 16) and asserted that Chief Minister Mamata Banerjee was free to decide the venue of the meeting with them, but stressed that it should be held in open. Banerjee had on Saturday (June 15) invited the agitators for closed-door talks, but the offer was turned down by them. Talking to the media after a two-and-half-hour-long meeting of their governing body, a spokesperson of the joint forum of junior doctors said, "We are keen to end this impasse. We are ready to hold talks with the chief minister at a venue of her choice, provided it is held in the open, in the presence of media persons, and not behind closed doors."
J&K on high alert after Pak intel on possible IED attack
Jammu and Kashmir's Awantipora is under the threat of a possible terrorist attack, according to information shared by Pakistan's intelligence with India. The possibility of an improvised explosive attack (IED) has put security on high alert in the valley. According to reports, the Pakistani government shared the information with the Indian High Commission in Islamabad and the USA. In what is being speculated, the attack is planned to avenge the death of Zakir Musa, founder and chief of terrorist outfit Ansar Ghazwat-ul-Hind. Musa who was killed in an encounter in Tral, Kashmir in May 2019 was the member of Burhan Wani's group.
With changing trends animated dads get more substance role
Across fantasy, the real world, and the anthropomorphised animal world, dads have started to get more billing in animated movies over the past couple of decades. The older films of Disney (along with others) did not have fathers who were as present in the plot as the ones today. This father's day, we take a look at some of the animated fathers from a litany of favourites, many of which are from Disney. While cinematic, the truth may be that that parents were simply not the main focus for target audience. Where father figures are present, they're mostly an afterthought, or a flat plot device. Today animated films flesh out their characters more giving animated dads growth in character.
Kashmiri separatists received foreign funds, used them for personal gains: NIA
The NIA has alleged that its probe into terror financing in Jammu and Kashmir has revealed that hardline separatist leaders received funds from abroad and utilised them for personal gains — from amassing properties to paying for foreign education of their kin. The agency has interrogated several top leaders of Hurriyat Conference and other organisations and claimed that they had confessed to receiving funds from Pakistan to fuel separatist sentiments among the people of Kashmir Valley.