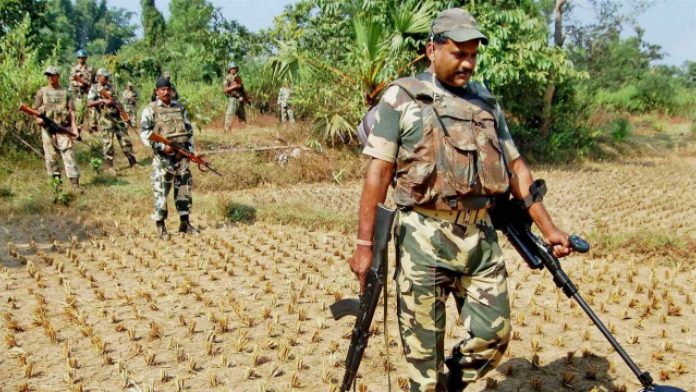 IAF denies US report as false, claims F-16 shot down
The Indian Air Force (IAF) on April 5 said it had shot down a Pakistani F-16 aircraft on February 27.
An IAF statement issued said, during the aerial engagement on the day, one MiG 21 Bison of the IAF had shot down an F-16 in the Nowshera sector over the LoC. The report comes a day after an American publication claimed that none of the F-16s with Pakistan were 'missing' and all the fighter planes were 'present and accounted for.'
The finding by the US on the ground in Pakistan 'directly contradicts' India's claim that its air force shot down an F-16 fighter during an aerial dogfight on February 27. The Indian side claimed that its radars had detected the digital signatures of the F-16 and reiterated that the aircraft was 'shot down.'
CRPF jawan killed, another injured in Naxal encounter in Chhattisgarh
A Central Reserve Police Force (CRPF) jawan was killed and another injured in an encounter with Naxals in Chhattisgarh on April 5, police said. The skirmish took place in the forest near Chameda village in Dhamtari district when a joint team of CRPF's 211 battalion and District Force (DF) was out on an anti-naxal operation, officials said. On April 5 morning, when security forces were advancing through Chameda, around 150 km from Raipur, a group of Naxals opened fire on them, leading to a gunfight.
Mining dependents in Karnataka asks SC panel to allow free ore trade
A group of mining dependents in Karnataka has requested the Supreme Court-appointed panel to allow free iron ore trade and give preference to local ore over imports, stating that various restrictions on mining in the state have made their livelihood uncertain. The Supreme Court had appointed the Central Empowered Committee (CEC) to look into issues related to iron ore mining in Karnataka.
Hyderabad professor held for demanding bribe from students
Sleuths of the Anti-Corruption Bureau (ACB) on April 4 apprehended a professor of the state-run Osmania Medical College here for allegedly demanding bribe from students to pass them in examination. Based on a complaint lodged by students, a case was registered and on Thursday, searches were conducted at the office and residence of B Balaji, head of the General Medicine Department at the Osmania Medical College. The ACB sleuths found documents pertaining to collection of money from students. They also found some documents related to properties registered in the name of Balaji and his family members were also found.
75% Great Indian Bustard deaths due to overhead power lines
Almost 75% of Great Indian Bustard deaths over the past 30 years were caused by collision with overhead powerlines. The birds had poor frontal vision, the 30th Forest Advisory Committee meeting noted recently. On April 4, a bench headed by National Green Tribunal (NGT) chairperson Justice Adarsh Kumar Goel asked the Union Ministry of Environment and Forests (MoEF) to submit a detailed report on the deaths of the Great Indian Bustard in two months.
IOC resumes fuel supplies to Jet
A major crisis was averted at the cash-starved Jet Airways after national oil marketing major Indian Oil resumed fuel supplies to the airline, which was halted earlier in the day due to the non-payments, sources said on April 5.
The supply, which was stopped around noon was restored at around 5 pm after airline assured the oil firm of payment of dues, sources told PTI. "Indian Oil Corporation has resumed supply of aviation turbine fuel to Jet Airways following assurance of payments by the airline," said a source.
Three killed in boiler explosion in Kancheepuram
Three people were killed in a boiler explosion at a steel plant in this district on Friday (April 5). The police said the boiler exploded midnight Thursday at the plant in Kaliyaanpoondi, about 30 km from here, injuring eight workers.
Three of them succumbed to injuries at a government hospital while the condition of five others was stated to be serious. The reason for the blast could not be ascertained immediately.
EC-AP tiff continues; Commission replaces chief secretary
In a significant development, the Election Commission on April 5 ordered the transfer of Andhra Pradesh chief Secretary Anil Chandra Punetha and replaced him with another senior IAS officer LV Subrahmanyam. The EC directed that Punetha, scheduled to retire next month, be given any assignment not related to the elections.
The move further deepens the rift between the state government and the poll panel ahead of the April 11 elections to the state Assembly and Lok Sabha.