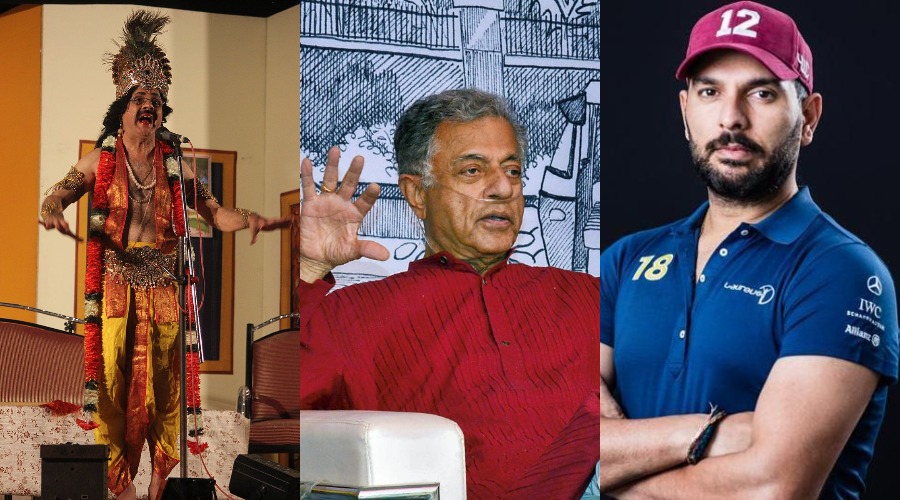 Daily wrap: 2 greats of film fraternity dead; life term for 3 in Kathua case
Adieu Mohan! He drove Tamils crazy with his humour
During his days at the College of Engineering, Guindy, Mohan Rangachari penned a play, "Great Bank Robbery", which got him awards for best actor and writer at a college-level competition. The year was 1972 and Kamal Haasan, then barely a chit of a man but already popular as a film actor, gave away the awards to Mohan. Later in life, it was again Kamal who helped Mohan, by then an accomplished theatre playwright, reach the heights as dialogue writer in comedy films. Crazy Mohan, who added Crazy to his name after his theatre group Crazy Creations, died on June 10 at Kauvery Hospital in Chennai. Mohan who was active until the very end complained of chest pain in the morning at his home. Admitted to the hospital at 11 am, he was dead by afternoon. He was 66.
Also see: The 'crazy'ness of Kalaimamani award winner
Yuvraj Singh retires: A 19-year illustrious career draws to a close
A role model to next generation cricketers and one of the most shining gems of Indian cricket, Yuvraj Singh has announced his retirement from the game. But, his innings continue with an inspiration for all. During a press conference in Mumbai, Singh announced his retirement, while sharing his most-prized moments as part of the cricketing fraternity. In his career spanning over 19 years, he has played 40 Tests, 304 ODIs, 58 T20Is and 132 IPL matches. He has scored a cumulative total of 8,701 runs in One Day International cricket.
India mourns veteran playwright Girish Karnad's death
Political leaders, theatre personalities and artistes from the entertainment sphere on Monday condoled the death of Girish Karnad, saying they will miss the brilliance of the iconic playwright-actor-director and his immense contribution to arts and culture. Karnad, 81, died on Monday (June 10) after prolonged illness, at his Bengaluru residence. He was a progressive voice that championed the freedom of expression. He worked across industries – Kannada, Tamil, Telugu, Malayalam, Hindi and Marathi.
Also read: Veteran playwright, actor Girish Karnad dies at 81
Life term for three in Kathua rape case; Three accomplices get five years in prison
A special court on Monday (June 10) convicted six people accused in the rape and murder of an eight-year-old nomadic girl at Kathua in Jammu and Kashmir and sentenced Main accused Sanji Ram, Deepak Khajuria and Parvesh Kumar sentenced to life imprisonment. The three accused were also sentenced to 25 years for charges of gangrape. Besides, SI Anand Dutta, head constable Tilak Raj and special police officer Surender Verma were sentenced to five years for destruction of evidence.
Two arrested for posting video defaming K'taka CM
The Bengaluru police arrested two men for allegedly using abusive language against Karnataka Chief Minister Kumaraswamy and his family members, on Monday (June 10). This comes amidst report that Yogi Adityanath government arrested five people, including a journalist, for posting 'objectionable' content about the Uttar Pradesh Chief Minister. Adityanath came under severe criticism after the arrest and the matter will be heard in the Supreme Court on Tuesday (June 11). The police arrest the two youth upon complaint filed by JD(S) members in Bengaluru.
Also read: Fourth arrest in three days over 'derogatory' tweet against Yogi
3 killed as rains lash Kerala on day 3 of monsoon
Monsoon rains lashed parts of Kerala, claiming three lives while a depression in the Arabian sea intensified into a deep depression on Monday (June 10), police and the weather department said. Two of the victims, including a woman, were electrocuted on a water-logged road here while a man died and two others were injured when a tree fell on them in Kochi, police said.
Pa Ranjith roasted on Twitter for comments on Rajaraja Chola
On Monday (June 10) Twitterati were seen hurling abuses at 'Kaala' director Pa Ranjith for his comments on Rajaraja Chola. The director called the ruler a land grabber. In a video that has gone viral on social media, Pa Ranjith is seen addressing a public meeting at a village in Thanjavur district on June 5. He denied that the Rajaraja Chola period was a golden era and criticised that period as dark times. Though the video has been there on social media platforms for a couple of days, Twitterati woke up to Ranjith's comments only after BJP's national secretary H Raja condemned the director for his speech over Rajaraja Chola on the micro-blogging site.
Only time will decide if AIADMK needs single or dual leadership, says Jayakumar
Only time will determine if AIADMK needs single or dual leadership, senior leader and fisheries minister D Jayakumar said on Monday (June 10), as he advised workers to toe the partyline by remaining silent and not give a handle to "enemies" to break the ruling party. In the absence of former leaders MG Ramachandran and J Jayalalithaa, the minister said every one in the party are dutifully carrying forward their legacy. "Only time has to tell whether AIADMK needs single or dual leadership. I am not saying it will be decided by MLAs, ministers or the party leadership, but it should be decided by thousands of cadres," Jayakumar told reporters here.
Also read: Not demanding Prez rule in Bengal, but will defy bar on our programmes: BJP
Pak's former president Zardari arrested in fake bank accounts case
Pakistan's former president Asif Ali Zardari was arrested on Monday (June 10) from his residence here in the fake bank accounts case by the country's top anti-corruption body, officials said. A National Accountability Bureau (NAB) team accompanied by police, including female officials, entered the PPP co-chairman's house in F-8 sector here after the Islamabad High Court rejected an application seeking extension in the pre-arrest bails of Zardari and his sister Faryal Talpur in the case.
Congress-JD(S) coalition under fire for land transfer to JSW Steel
Even as the Congress-Janata Dal (Secular) government in Karnataka struggles to stay afloat, its decision to sell 3,700 acres of land to JSW Steel in Karnataka's iron ore rich Ballari district has turned into a full blown political controversy. The Bharatiya Janata Party's state president B S Yeddyurappa on Sunday (June 9) alleged that the coalition government received kickbacks from the company. He threatened to launch a statewide protest on the issue.
Mauka Mauka ads featuring Indo-Pak repartee return this WC season
While Pakistan is still searching for a 'mauka' (opportunity) to celebrate its maiden victory against the mighty Indian team in the World Cup, the 'desi' boys seem confident of keeping the winning streak intact, at least in the much-popular 'Mauka Mauka' ads. The 'Mauka Mauka' promotional campaign by Star Sports is nothing new to cricket fans, and the best part is that it has made a comeback.
Situation under control, says WB govt in reply to Centre's advisory over violence
Stating that there were a few "stray post-poll clashes" in West Bengal, the Mamata Banerjee government on Sunday (June 10) claimed that situation in the state was "under control" in a letter to the Centre, which had issued an advisory after four people died in violence between workers of the Trinamool Congress and the BJP. State Chief Secretary Malay Kumar De wrote that "firm and appropriate actions" were initiated in all cases of violence without any delay.
Also read: Is Nitish tacitly helping Mamata to fight against BJP in her home turf?