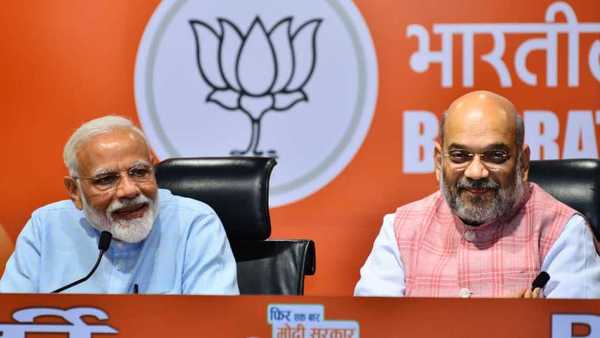 Modi at his first media event diverts questions to Shah, asserts BJP will be back in power
Prime Minister Narendra Modi, in his first face-to-face with a large contingent of reporters, asserted confidently that the BJP will come back to power with a full majority on its own. In a surprised move, Modi showed up on the dais for a scheduled press conference by BJP president Amit Shah, who gave a detailed report card of the campaigning as well as performance of the NDA government. He told reporters that he will not take any questions because the press conference is being addressed by Shah, and in BJP's system, discipline has to be followed. "We are disciplined soldiers of the party," Modi said.
JNU student found hanging from ceiling fan inside campus, suicide suspected
A JNU student was found hanging from a ceiling fan in a study room at the university on Friday (May 17), the police said. Rishi Joshua, a second-year MA student, e-mailed a "purported suicide note to his English professor before hanging himself", the police added. They, however, did not share details from the note, PTI reported. A police crime team visited the spot and necessary investigation was done.
Also read: PM Modi's press conference that wasn't
Yeddyurappa whips up a storm with Lingayat remark, Cong goes to EC
As the curtains go down on the election campaign for two bypolls in Karnataka -Chincholi and Kundgol – Bharatiya Janata Party (BJP) leader BS Yeddyurappa urged the members of the Lingayat community in the region to not vote for the Congress. "It will be a mistake on the part of Veerashaiva community members (living in this part of the state) if they vote for the Congress. The party, insulted its leader Veerendra Patil who had helped the Congress win 178 seats in Karnataka," Yeddyurappa said while campaigning in Chincholi. Patil, a Veerashaiva, was the chief minister of the state twice, from 1968 to 1971 and from 1989 to 1990. The Congress had unceremoniously asked him to step down as the Chief Minister in 1990. The elections to Chincholi and Kundgol Assembly seats will be held on May 19.
Quick expansion, dilution of low-cost model could be behind rift between IndiGo promoters
On a wet February evening this year, IndiGo invited a few journalists for a first-of-its-kind meeting with its top management, where CEO Ronojoy Dutta made a presentation about the airline's growth, its obsessive focus on costs and future strategy. The single biggest takeaway from this meeting was IndiGo's soaring overseas ambitions and its simultaneous aggressive domestic expansion. Dutta reasserted that IndiGo will be adding a new aircraft every week to its existing fleet till 'eternity,' while terming the perception that growth has been too fast as 'incorrect.' Now, as a rift between the two promoters of IndiGo has come to light through numerous news reports, it is this aggressive expansion which seems to be the bone of contention between Rahul Bhatia and Rakesh Gangwal. Bhatia holds about 38% stake in IndiGo while Gangwal holds about 37% while the remaining 25% is with the public.
3 BJP leaders to explain Godse remarks in 10 days: Amit Shah
BJP president Amit Shah on Friday (May 17) came out strongly against three party leaders Pragya Singh Thakur, Anantkumar Hegde and Nalin Kumar Kateel for their controversial remarks about Nathuram Godse, saying the BJP has taken serious note of their statements, which are against its ideology. Shah has asked the party's disciplinary committee to submit a report on the issue in 10 days for further action.
Kamal is atheist, secularist, Leftist… still DMK hates him. Why?
It is a well-known fact that actor-turned-politician Kamal Haasan had a reverential relationship with Dravida Munnetra Kazhagam (DMK) patriarch M Karunanidhi. Till the latter's last days, the Makkal Needhi Maiam (MNM) founder maintained a keen friendship with him but it died a slow death after Kamal's entry into politics. Today, it may appear that the DMK and Kamal are ideologically on the same page and yet attack one another using harsh language. The DMK suspects that Kamal's reference to Godse is an attempt to create a polarisation. They fear it will divert the votes of the DMK to the Bharatiya Janata Party (BJP).
Also read: Terrorists abound in all religions: Kamal stands by statement on Godse
Pragya apologises for Godse remark, says comment was twisted by media
Guwahati blast: Ulfa sleeper cell member, actress arrested
The Guwahati Police have arrested a sleeper cell member of the United Liberation Front of Asom (Independent) and an actress for their suspected role in the grenade blast in the city on May 15 that injured 12 people. The police also recovered 20 kg of gunpowder, one 9 mm pistol, 25 rounds of live ammunition, ULFA documents, mobile phones and other "incriminating materials" from their rented accommodation at Panjabari locality in the city on May 16.