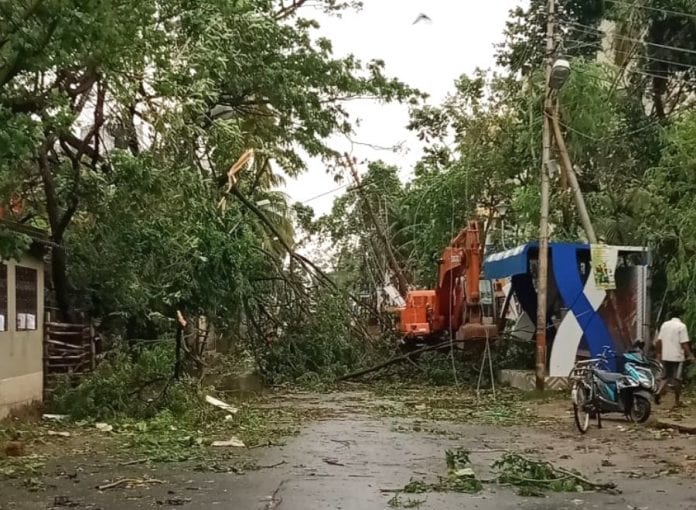 At least 72 people were killed in West Bengal and two in Odisha after cyclone Amphan ripped through the eastern coast on May 20. West Bengal Chief Minister Mamata Banerjee on Thursday (May 21) confirmed the death toll in the state and announced a compensation of ₹2.5 lakh each to the kin of the deceased persons.
The Chief Minister urged Prime Minister Narendra Modi to visit the affected districts and help the state to rebuild those regions from scratch. "Two districts — North and South 24 Parganas — are completely devastated. We have to rebuild those districts from scratch," she said.
After monitoring the situation from a control room in the Secretariat on May 20, Mamata held a review meeting with officials on May 21. The Chief Minister said she had never witnessed such a fierce cyclone and destruction in her life.
Related News: Mamata braces for political storm as Amphan leaves behind trail of destruction
"I will visit the affected areas very soon. The restoration work will start soon. A large part of North and South 24 Parganas and Kolkata are facing massive power cut since last evening. Even telephone and mobile connections are down," she said.
According to the India Meteorological Department, Amphan is the fiercest cyclone to hit West Bengal in the last 100 years. Packing heavy rain and winds with speeds of up to 190 kmph, the cyclone slammed Digha coast of the state at 2.30 pm on May 21, triggering heavy rains in various parts of the state.
So far, officials have ascertained the deaths of 12 persons. While a man and a woman were killed when trees came crashing down on them in North 24 Parganas district, a 13-year-old girl died in a similar incident in adjoining Howrah, officials said.
Related News: Revisiting Amphan's predecessor, the Super Cyclone of 1999
Four persons were killed in Hooghly and North 24 Parganas districts due to electrocution. A woman and her seven-year-old son were killed in the Regent Park area of the capital Kolkata after a tree fell on them, while two persons died due to electrocution in Behala area, the officials added. Another person was killed in Kolkata after being hit by a flying object during the storm.
Meanwhile, at least persons were killed in Odisha as several regions of the state were devastated by the cyclone. While a three-month-old boy was killed after a wall collapsed over him at Dakhinapari village in Tihidi block of the Bhadrak district, a woman died after a utility pole fell on her in Bhogarai block of the Balasore district, Orissa Post reported.
More than 1.3 lakh people have been evacuated from their homes in Odisha due to the cyclone. Hundreds of pregnant women have been admitted to hospitals in one of the worst-hit districts of Bhadrak.