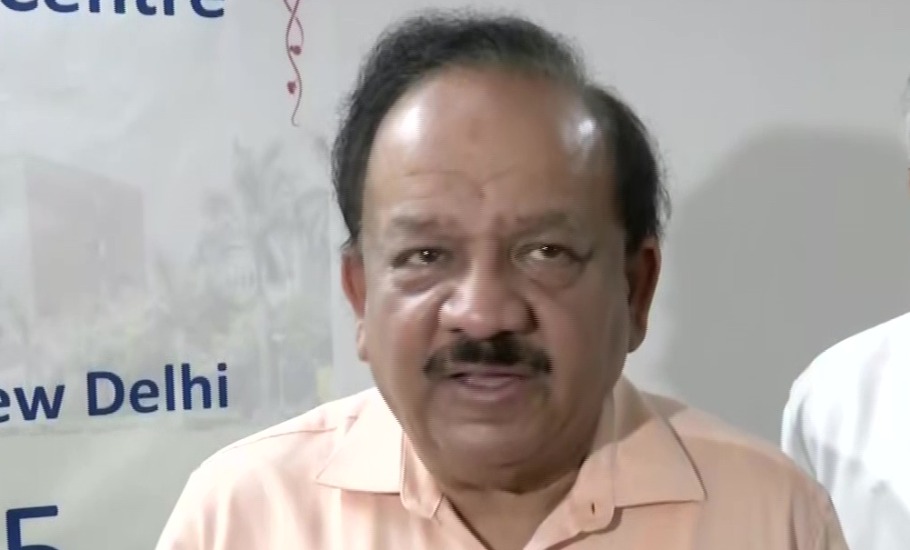 Union Health Minister Dr Harsh Vardhan on Friday (March 27) said India's decision to test people for the novel coronavirus and the number of people to be tested and the testing facilities depends on the scenario not only in the country but also in the entire world.
Explaining that India is responding to an evolving and dynamic situation, Dr Harsh Vardhan said, "India was first in the world to have started technical consultation with experts, a day after China reported of COVID-19 to the World Health Organisation (January 8)."
Related news: 8 of 10 new COVID-19 cases in Karnataka are primary contacts of positive patients

In an exclusive interview with the NDTV, he said "The country has, on several occasions, shown the world that we can handle health outbreaks very efficiently, including Ebola, Nipah virus and plague. We've experience of eradicating smallpox and polio which will help us at this critical juncture."
Lauding health professionals in the country, the Union minister said that India has one of the best integrated surveillance system and opinions of these experts has been guiding the government since day one to fight the coronavirus pandemic.
Is India testing enough?
According to the health minister, currently, India is testing all symptomatic people with travel history and their contacts, all lab confirmed cases and symptomatic healthcare workers.
All hospitalised patients with acute respiratory illness and asymptomatic direct and high risk contacts of a confirmed COVID-19 cases are also being tested.
"From 15 labs we're now testing for the coronavirus in 119 government laboratories in the entire country. We're also being supported by 35 private lab chains," he said.
Our average testing load in the last five days has been 2,000 tests per day, despite the fact that our current testing capacity is around 12,000 tests per day. We've already tested 28,000 people and will increase the number as and when the need arises," Dr Harsh Vardhan added.
Shortage of ventilators
With the United States of America pointing towards a massive shortage of ventilators, India also needs to think about the same. However, the Union health minister said that they have detailed plans for adequate ventilators to handle extreme situations.
"For COVID-19, data suggests 80% infections are either mild or asymptomatic patients, 15% severe infections requiring oxygen and 5% are critical infections requiring ventilation. More important is oxygen supply as not every coronavirus patient will not need ventilation," he said.
Related news: US ready to supply ventilators to countries in need, says Trump

As of today, around 15,000 ventilators have been made available dedicated only to isolation beds in the country, especially for COVID-19 management, Dr Harsh Vardhan told NDTV.
He also said that the number of ventilators being manufactured is gradually increasing, in addition to others available in the Intensive Care Units (ICUs) of public and private hospitals and that every effort is being made to augment the need of ventilators by 30,000 in the coming weeks.
"This is being coordinated by the health ministry and we're tapping both domestic as well as overseas manufacturers," he said.
Next big medical step
According to the health ministry, healthcare experts are continuously deliberating innovative technologies to deal with various facets of COVID-19 management. They've successfully isolated the virus in testing labs and have now proceeded with their research on vaccine development.
"We're doing this by keeping ourselves updated on every information on development from across the globe and are examining all options objectively. Our main focus is on identifying technological advancements in every industry and supporting them for rapid development of coronavirus solutions," he said.
Elucidating on the importance of the 21-day countrywide lockdown amid coronavirus pandemic announced by Prime Minister Narendra Modi, the health minister said, "Our priority is to keep a close watch on over 2,00,000 people under community surveillance and ensure 1000s of others who are under home or institutional quarantine facilities are taking care in a disciplined manner."
"Next two weeks are extremely crucial for us and it is essential that lockdown is respected by citizens. We reassure the nation not to panic and the government is doing its best to contain coronavirus and mitigate it. We're making sure that the spread of the disease is contained and are working with speed, scale, determination," he added.