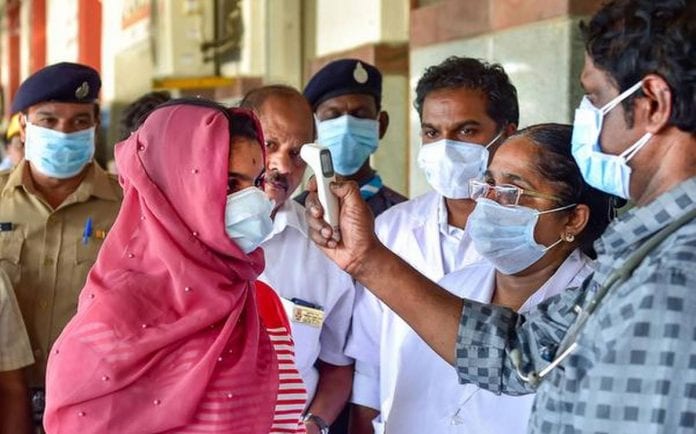 In an attempt to ward of criticism that not enough testing is being done in the country, the Centre has initiated plans to test at least 2.5 lakh people, nationwide, by April 14. This comes in the backdrop of COVID-19 positive cases crossing the 6400-mark in India as on Friday (April 10).
on Wednesday (April 8), the The Union Health Ministry reached out the health secretaries of all states and Union Territories to increase testing through a video-conference Indian Express reported. It is said that directions have been issued to doctors and medical staff regarding another round of testing which is to be launched on Friday.
Talking about Haryana's strategy to ramp up testing, Haryana Additional Chief Secretary (Health) Rajeev Arora told that the state would go by the formula adopted by the centre and increase testing by 1.5 times. Reeling out figures he added that Haryana will be testing 7,000-7,500 in the next five-six days from the current 4000.
A total of more than 1.4 lakh samples of the 133 crore population have been tested so far.
Related news | Mobile testing pods to collect samples of suspected COVID patients in Sangrur
ICMR data points to community transmission
The latest data released by the Indian Council of Medical Research (ICMR) shows that the random COVID-19 tests on patients with severe respiratory diseases have revealed that more people with no travel or contact history have begun contracting the disease.
Between February 15 and April 2, ICMR tested 5,911 SARI (Severe Acute Respiratory Illnesses) patients for coronavirus. Out of these 104 tested positive among which at least 40 cases didn't have any foreign travel history or any connection with foreign returnees. These cases were reported from 36 Indian districts in 15 states.
Earlier, the ICMR was on record denying any sign of community transmission in India.
Related news | Indian firms join in as market race for COVID-19 vaccine heats up
(With inputs from agencies)