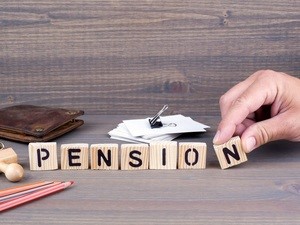 The Pension Fund Regulatory Development Authority, however, will not be able to return the funds contributed so far by these two states since there is no legal way to do this, said the report
Two Congress-ruled states, Rajasthan and Chhattisgarh, have left the National Pension System (NPS) after participating in it for the last few years, confirmed a report in a national newspaper.
The NPS, a pension-cum-investment scheme, aimed at releasing the Central and state governments of future pension liabilities, is run by the Pension Fund Regulatory and Development Authority (PFRDA). With the exception of Tamil Nadu and West Bengal, all other states participate in the NPS.
Also read: States are rushing to abandon NPS; fiscal hara-kiri, says SBI report
The scheme has now run into a roadblock as the two states, Chhattisgarh and Rajasthan, have backed out and have stopped giving any funds since April 1. The PFRDA, however, will not be able to return the funds contributed so far by these two states since there is no legal way to do this, said a news report in The Indian Express quoting an official in PFRDA.
In fact, the PFRDA rejected the Chhattisgarh government's request to withdraw ₹17,240 crore accrued by the state under the NPS. This denial prompted Chhattisgarh CM Bhupesh Baghel to approach Prime Minister Narendra Modi and asked him to issue a directive to the PFRDA to refund the money deposited by the state towards the NPS since November 2004, along with the accruals.
Also read: Pulling out of NPS is fiscally imprudent; other states might emulate Rajasthan
In May this year, Chhattisgarh became the first state to notify restoration of old pension scheme (OPS) to provide assured income to retired employees. A State Bank of India (SBI) report, however, had warned states against reverting to OPS or PAYG, (pay-as-you-go pension) terming it as a step equivalent to committing a "fiscal hara-kiri", a suicidal act.
The SBI report said that the decision to return to the old pension system sounds like a good political statement aimed at attracting voters but a bad decision for any state's financial health.
Meanwhile, Supratim Bandyopadhyay, PRFDA chairperson told the media recently that the total assets under NPS have touched ₹35 trillion. Currently, it has an AUM of ₹7.4 trillion with 5.33 crore subscribers across central and state government, corporate houses and retailers.
Equity schemes under NPA have given a return of 11.92 per cent, while the corporate bonds have provided a return of 9.21 per cent. Recently, Tata Asset Management, Axis Bank and Max Financial have joined as new pension fund managers and are all set to begin their operations shortly, said Bandyopadhyay. He also seemed to suggest that PFRDA plans to launch in September a guaranteed pension scheme that is linked to government securities.