The Congress is keen to address all national security issues but no decision will be ad hoc or arbitrary, senior party leader P Chidambaram has said.
In an apparent bid to counter the allegation that the Congress has been vague on national security, PC said the ideas mentioned in the Lieutenant-General DS Hooda Report would be implemented when the 'party assumed power.' The media conference largely hinged on the Congress's National Security Strategy Report, put together by a committee headed by Lt-Gen Hooda. The report, in its preface, says national security is an all-encompassing term that includes protection of its nations and its citizens from a range of multi-dimensional threats and coercion.
It reiterates the fact that there will be no 'past digging to find the missteps' but it is an attempt to shape a safer and more prosperous India.
"To show our earnestness to the issue, the party has brought out a two-page gist of the report," Chidambaram said.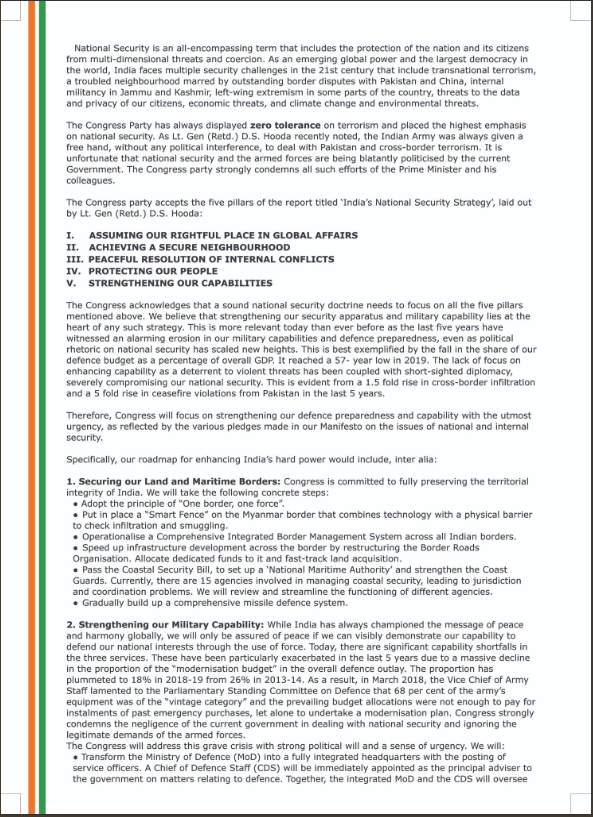 The gist report lists out a five-pronged national security strategy. The preface to the larger report said we lived in an uneasy neighbourhood with unsettled borders which could be flashpoints of a future conflicts.
On Kashmir
The report said a search for solutions in Jammu and Kashmir was complex. The immediate focus should be on bringing calm to the streets and reducing violence levels, it said. Speaking of mainstreaming Kashmir, the report said, "There must be a clearly defined political objective to mainstream Jammu and Kashmir with the rest of India."
Cross-border strikes
In a veiled reference to cross-border strikes, the report said, " …there is also no doubt that military actions carry the risk of escalation and this needs to be factored into our future plans." Taking a calibrated stance, it said, "Talks with Pakistan must be structured, and further progress must be based on visible results. Confidence building measures cannot be pursued if there is a daily flare-up on the borders and infiltration continues."
On China
The report said future strategic rivalry between China and India was a certainty, and a successful trading partnership cannot overcome the reality of this competition.
On a warning note, the report said, PLA Navy flotillas on the Indian Ocean had become more capable with the deployments extending for longer durations.
"India is a growing market for China with bilateral trade in 2017 being over $84 billion. A more balanced trade will be in the interest of both countries," it said.
'No place for chest size'
Slamming the BJP's 'jingoism,' Chidambaram said the discussion was not on 'chest size' and there was no place for 'muscular politics' in the Congress scheme of things for the country. "The key issues are, in that order, unemployment, farm distress, and security of various sections of people including women, journalists, forest-dwellers and so on."
Referring to Sri Lanka, he said peace in the neighbourhood was essential to maintain regional peace. "We should do everything possible to help our neighbour uphold their peace and sovereignty,"  Chidambaram said.