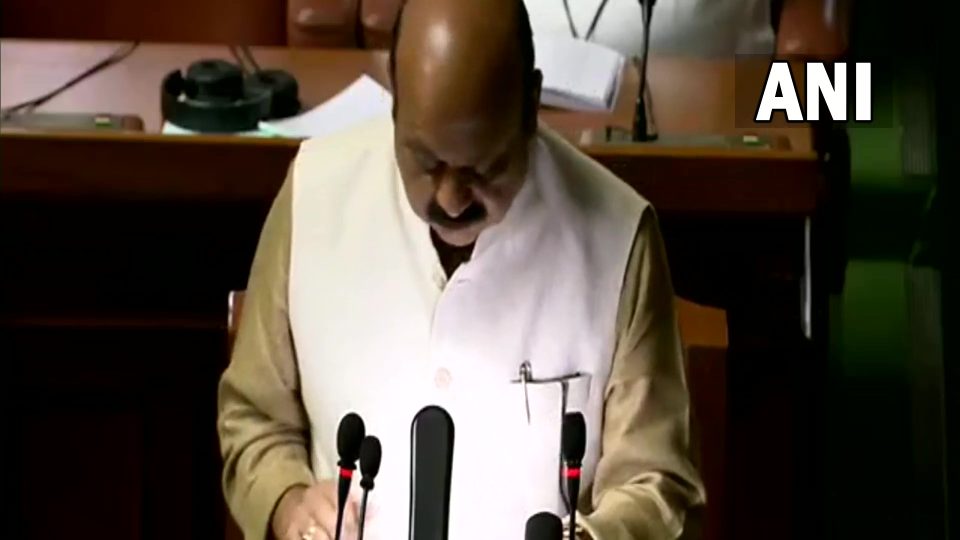 CM Bommai: Karnataka govt to construct Ram Temple in Ramanagara
On Friday, Basavaraj Bommai, the Chief Minister of Karnataka, declared that a magnificent temple dedicated to Lord Ram will be built on Ramadevara Betta, a hill located near here in Ramanagara district.
The Chief Minister also said Anjanadri hill in Koppal district, which is believed to be the birthplace of Lord Anjaneya (Hanuman), will get better tourist facilities as a detailed project report has been formulated involving various works at an estimated cost of Rs 100 crore and a tender has been invited.
He also said that in the next two years, a comprehensive development and renovation drive of various temples and Maths will be undertaken by the government with an expenditure of Rs 1,000 crore.
Bengaluru | Ram Mandir construction will be taken up in Ramanagara, announces Karnataka CM Basavaraj Bommai during the Budget presentation in State Assembly pic.twitter.com/Bn8CVSpBL6

— ANI (@ANI) February 17, 2023
"A majestic Rama Mandira will be constructed in Ramadevara Betta of Ramanagara," Bommai, who also holds the finance portfolio, said while presenting the 2023-24 budget in the Assembly.
Ramanagara, part of Vokkaliga-dominated Old Mysuru region, is not considered among the BJPs strongholds.
Assembly polls are due in Karnataka by May this year.
Also Read: With elections in sight, Karnataka CM announces farmer-friendly budget
Ramanagara district in-charge Minister C N Ashwath Narayan had in December last year urged Bommai to constitute a development committee to build a temple at Ramadevara Betta on the lines of Sri Ram temple at Ayodhya in Uttar Pradesh.
In a letter to Bommai and Muzrai Minister Shashikala Jolle, he had demanded that Ramadevara Betta should be developed as the Ayodhya of South India.
The Ram temple should be built using 19 acres of space that belong to the Department of Muzrai at Ramadevara Betta, Narayan had said.
Stating that there is a strong belief among the people of the region that Sugriva had installed Ramadevara Betta, Narayan in his letter had said, "Considering the religious feelings of the people of the district, it should be developed as a heritage and attractive tourist spot. This would enable us to portray our culture as well as nurture tourism."
Also Read: Karnataka: BJP MLA leaves Bommai govt red-faced with graft charge
"They also believe that seven great sages did their penance here. In addition, this is a prominent vulture conservation area in the country."
The traditional connection between Ramadevara Betta and the epic Ramayana dates back to the era of Tretayuga, he had said in the letter.
According to the state's Tourism Department, Ramadevara Betta is situated 50 kilometres away from Bengaluru, and the famous Hindi blockbuster Sholay was shot on this picturesque hill.
Congress President D K Shivakumar slammed CM Bommai and said, "I have constructed many temples in my constituency, what Ram Mandir will he (CM Bommai) construct? In Ramanagara,a small temple is already there. What can he do? Nothing."
I have constructed many temples in my constituency, what Ram Mandir will he (CM Bommai) construct? In Ramanagara,a small temple is already there.What can he do? Nothing:Congress leader DK Shivakumar on the construction of Ram Mandir in Ramanagara proposed in Karnataka Budget 2023 https://t.co/5i0mXeSeLR pic.twitter.com/41zK5273bl

— ANI (@ANI) February 17, 2023
While Ramanagara is the home district of state Congress President D K Shivakumar, it is also the karma bhoomi of JD(S) leader and former Chief Minister H D Kumaraswamy. While the latter is MLA from the districts Channapatna segment, his wife Anitha Kumaraswamy represents the neighbouring Ramanagara seat.
Kumaraswamy is seeking re-election from Channapatana, while his son Nikhil Kumaraswamy will be facing polls from Ramanagara.
(With agency inputs)