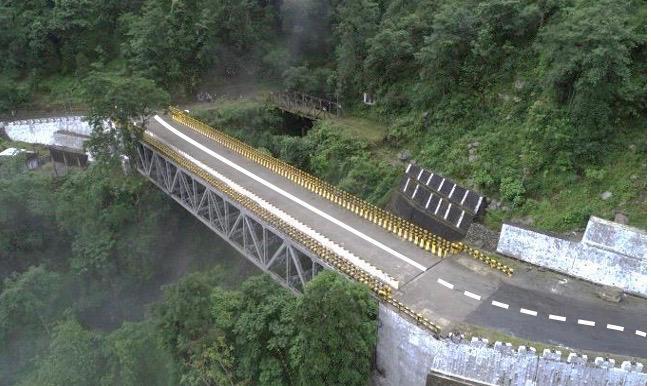 China has reacted strongly to Defence Minister Rajnath Singh opening 44 new bridges near the LAC in Ladakh and Arunachal Pradesh on Tuesday. China said that it "does not recognize the Ladakh Union Territory illegally set up by India" and is against infrastructure development in the region.
The inauguration of 44 bridges today will improve connectivity in the far flung areas of Western, Northern and North East sectors and fulfill the aspirations of local people.
They would also meet the transport and logistics requirements of the armed forces throughout the year.

— Rajnath Singh (@rajnathsingh) October 12, 2020
China's Foreign Ministry spokesperson Zhao Lijian called border infrastructure development "the root cause for the tension between the two sides" and said neither side should take action that might escalate tension.
Of the 44 new bridges inaugurated by the Defence Minister, eight are in Ladakh and eight in Arunachal Pradesh. The bridges range from 30m to 484m and are located in J&K (10), Ladakh (8), Himachal Pradesh (2), Punjab (4), Uttarakhand (8), Arunachal Pradesh (8) and Sikkim (4). The 450m-long, bi-lane tunnel once completed would ensure all-weather connectivity across the Nechiphu Pass besides providing a safe and secure passage through accident-prone areas.
"First I want to make it clear that China does not recognise the Ladakh Union Territory illegally set up by the Indian side and the Arunachal Pradesh. We stand against the development of infrastructure facilities aimed at military contention along the border area," said the Chinese spokesperson.
"Based on consensus, neither should take actions along the border that might escalate the situation that is to avoid undermining the efforts by the two sides to ease the situation," Lijian said.
Also read: Rajnath dedicates 44 bridges at strategic points in north, N-E regions
"We urge the Indian side to earnestly implement our consensus and refrain from actions that might escalate the situation and take concrete measures to safeguard peace and tranquility along the border," said Zhao.
Indian Army officials claim the new bridges will help faster movement of troops and weapons along the border.
Senior military officials from both sides met on Monday for the seventh time to restore calm after several recent confrontations. The talks lasted for more than 11 hours and ended around 11:30 pm, reports say.
Troops from both sides have been engaged in a face-off in Ladakh since May. The situation became tensed in June when 20 Indian soldiers were killed in the line of duty in a clash with the Chinese.