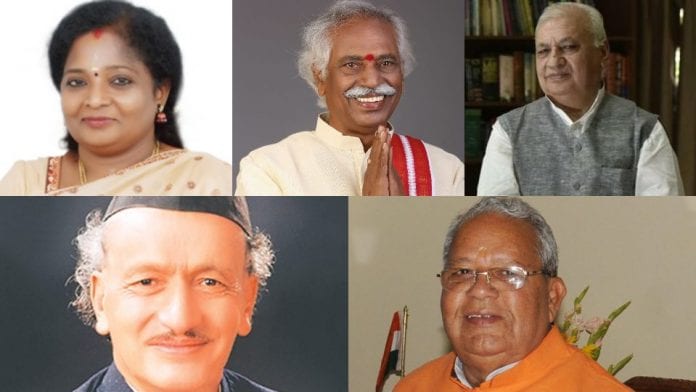 The Centre on Sunday (September 1) transferred the governor of Himachal Pradesh to Rajasthan and appointed new governors to four other states.
While Himachal Pradesh's Governor Kalraj Mishra, a former cabinet minister under the BJP government under Modi 1.0 was transferred to Rajasthan, his place was filled by Bandaru Dattatreya, a former BJP MP from Secunderabad, according to an official statement.
Bandaru Dattatreya, former Union Minister on being appointed as Governor of Himachal Pradesh: I am thankful to PM Narendra Modi as well as Home Minister Amit Shah. They have given this responsibility to me as the Governor of Himachal Pradesh& I will work as per the Constitution. pic.twitter.com/ZlR2Wq0djp

— ANI (@ANI) September 1, 2019
Fifty-eight-year-old Tamilisai Soundararajan, the former Tamil Nadu BJP chief and the party's national secretary, moves to Raj Bhavan in Telangana.
The post was under the dual charge of E S L Narasimhan, who was the Governor of Andhra Pradesh before its bifurcation.
He recently demitted office. Koshyari replaces Vidya Sagar Rao, whose five-year term came to an end.
Arif Mohd Khan on being appointed as Guv of Kerala: It's an opportunity to serve. Fortunate to be born in a country like India which is so vast&rich in diversity. It's a great opportunity for me to know this part of India, which forms boundary of India&is called god's own country pic.twitter.com/LZmF1FRN3Y

— ANI (@ANI) September 1, 2019
Former civil aviation minister Arif Mohammed Khan takes over as the Governor of Kerala, replacing P Sathasivam, the former chief justice of India whose five-year term came to an end.
Bhagat Singh Koshyari, a former BJP MP and chief minister of Uttarakhand was appointed as the Governor of Maharashtra.
(With inputs from agencies)