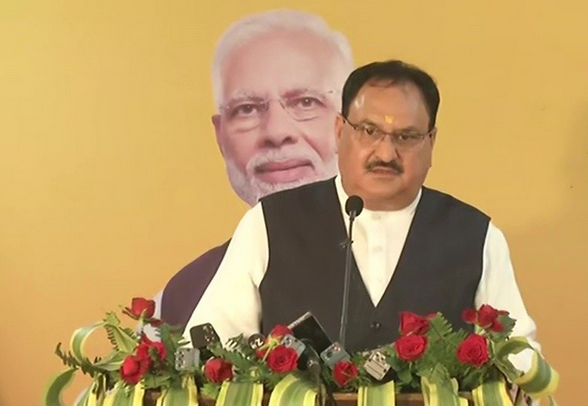 BJP chief JP Nadda led his party's team to meet ally JD-U at Chief Minister Nitish Kumar's residence on Saturday (September 12) in an attempt to finalize seat-sharing ahead of the Bihar Assembly polls due later this year.
The meeting between the two NDA allies came days after divisions between Chirag Paswn-led LJP and the ruling JD-U sharpened with reports suggesting that Chirag, whose father Ram Vilas Paswan is a Union minister, could be mulling going it alone in the polls while remaining in the NDA.
Former Maharashtra Chief Minister Devendra Fadnavis, who would be managing BJP's poll campaign, and BJP national general secretary Bhupendra Yadav were among those present at the meeting with Nitish Kumar at his Patna residence.
Advertisement
The Opposition has accused the ruling alliance of dragging actor Sushant Singh Rajput's death into politics for electoral gains as BJP workers put up posters and banners of the actor in Bihar.
"We do not want to make Rajput's death an election issue. I was told I would work in Bihar long before this case happened. This is linked to the common man's emotion. We will ensure he gets justice and we will not stop until justice is done," Fadnavis was quoted as telling NDTV.
"That is why we say, na bhoolenge, na bhoolne denge (we won't forget, we will not let anyone forget)," he said, referring to the phrase on the posters put up by BJP's cultural unit in Bihar.
The JD(U)-BJP combine fought the national election in Bihar last year and won. Their relation, however, dipped after the BJP offered just one Union cabinet berth to the JD(U). However, the BJP last year declared that it would contest the Bihar polls under Nitish Kumar's leadership.
"Only a government which can work with the Modi government can take Bihar forward, unlike a government that has differences such as the West Bengal government. Farmers in Bengal are not getting the PM Kisan scheme's benefit just because their Chief Minister has not sent the list. This has caused loss to farmers," Fadnavis had said in Patna on Friday.
In the 243-member Bihar Assembly, the NDA has 131 MLAs.