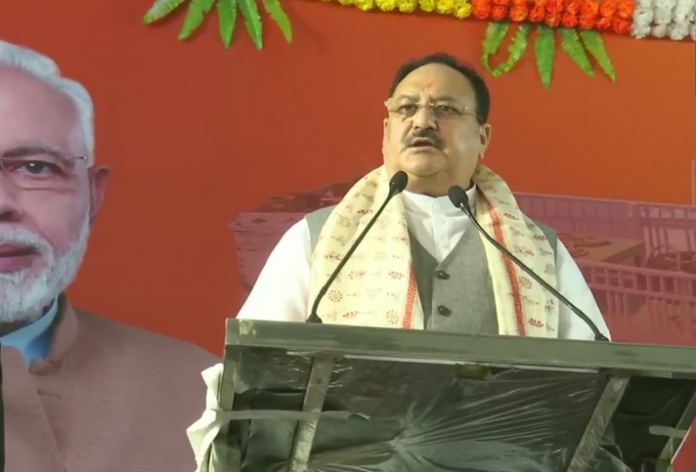 Soon after BJP president JP Nadda's convoy came under attack in West Bengal's Diamond Harbour on Thursday, Home Minister Amit Shah ordered an investigation into the incident. He has also asked for a detailed report from the Governor on law and order in the state.
Reports suggest the Union home ministry has asked the Bengal administration to submit two reports within 12 hours.
The convoy of Nadda was attacked with stones and bricks when he and other party leaders were on their way to Diamond Harbour to meet party workers ahead of the 2021 assembly polls, on Thursday.
Nadda's cavalcade also had vehicles of BJP national general secretary Kailash Vijayvargiya and the party's state chief Dilip Ghosh, which were reportedly damaged in the attack.
"There isn't a car in our convoy which was not attacked. I am safe because I was travelling in a bulletproof car. This state of lawlessness and intolerance in West Bengal has to end," Nadda told party workers while addressing the meeting at South 24 Paraganas later.
Related news: BJP trying to break TMC using 'moneybags': Mamata
The top rung BJP leaders including Shah and Defence Minister Rajnath Singh deplored the attack. Bengal Chief Minister Mamata Banerjee, whose Trinamool Congress government is being blamed for the attack, has said she "won't put up with lies all the time."
Reports said irate protesters tried blocking the road to stop the movement of Nadda and Vijayvargiya's cars and started throwing stones at the vehicles. The police later escorted the vehicles out of the area. Sharing a video clip that showed a cracked windshield of his car, Vijayvargiya criticised the Bengal police for its alleged inaction despite being informed about Nadda's itinerary in advance. "Trinamool Congress 'goons' attacked our party workers and threw stones at my vehicle in front of the police," he tweeted.
बंगाल पुलिस को पहले ही राष्ट्रीय अध्यक्ष श्री @JPNadda जी के कार्यक्रम की जानकारी दी गई थी, लेकिन एक बार फिर बंगाल पुलिस नाकाम रही। सिराकोल बस स्टैंड के पास पुलिस के सामने ही #TMC गुंडों ने हमारे कार्यकर्ताओं को मारा और मेरी गाड़ी पर पथराव किया। #BengalSupportsBJP pic.twitter.com/G882Ewhq9M

— Kailash Vijayvargiya (@KailashOnline) December 10, 2020
Dilip Ghosh said their convoy was attacked multiple times by TMC workers "sporting party flags and armed with lathis." "Stones and bricks were hurled by TMC workers. Several cars have sustained damage. Police were mute spectators in some places and missing elsewhere," he told The Indian Express.
Terming it a "pre-planned attack", BJP leader Anupam Hazra told news agency ANI: "The police were helping the protestors. Many BJP workers were injured. There is no democracy in West Bengal."
Related news: Now, BJP reaches out to diaspora Bengalis to spread the word
Rajnath Singh said the attack on the convoy of the BJP chief should be thoroughly probed and the responsibility of this incident should be fixed. Meanwhile, Home Minister Shah said that the Bengal government will have to answer to the peace-loving people of the state for this sponsored violence.
"Bengal has descended into an era of tyranny, anarchy and darkness under the Trinamool rule. The manner in which political violence has been institutionalized and brought to the extreme in West Bengal under TMC rule is sad and worrying," Shah said on Twitter.
Meanwhile, Chief Minister Banerjee said she has already directed the police to investigate the attack, "You have security personnel with you. How can someone attack you? Instead of depending on the state, you depend on central force. The attack might have been planned, I've asked Police to investigate but I won't put up with lies all the time," she said.
Commenting further on Nadda's visit to the state, a frustrated Banerjee whined: "They (BJP) have no other work. At times, the home minister is here, other times its Chaddha, Nadda, Fadda, Bhaddha is here. When they have no audience, they call their workers for doing nautanki."
Reacting to the allegations of police inaction, Trinamool MP Sougata Roy said spontaneous protests by people may have led to the incident and that it would have been impossible on the part of police to cover every inch of the route.
On Wednesday, Ghosh had written to Home Minister Shah, alleging security lapses in an event attended by Nadda that day and said that the "TMC goons" are planning protests at different places between New Town and Diamond Harbour.