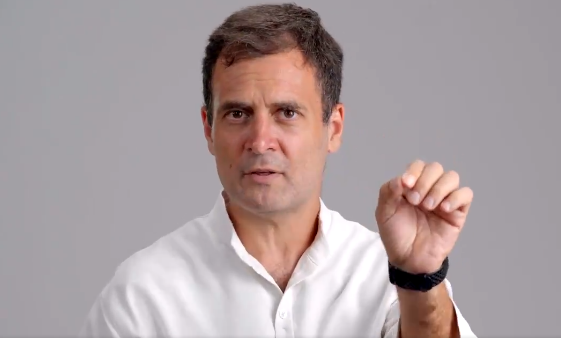 The BJP has knocked the doors of the Election Commission of India (ECI), asking the apex polling body to take legal action against Congress leader Rahul Gandhi over his tweet on Wednesday morning, in which he sought votes for the Mahagatbandhan even as voting was underway in the first phase of Bihar assembly elections.
इस बार न्याय, रोज़गार, किसान-मज़दूर के लिए
आपका वोट हो सिर्फ़ महागठबंधन के लिए।

बिहार के पहले चरण के मतदान की आप सभी को शुभकामनाएँ।#आज_बदलेगा_बिहार

— Rahul Gandhi (@RahulGandhi) October 28, 2020
Rahul Gandhi on Wednesday urged voters to cast their votes in favour of the 'Mahagathbandhan' for "justice, employment and farmers-workers".
The polling for 71 assembly constituencies of Bihar in the first phase began on Wednesday morning. Rahul Gandhi posted the tweet soon after.
In a letter to the Election Commission, BJP has said, "It is requested to take legal action against him for violation of Model Code of Conduct."
"This time for justice, employment, farmers-workers, your vote should be only for 'Mahagathbandhan' (grand alliance)," Rahul Gandhi said in a tweet in Hindi.
"Good wishes to all of you on the first phase of Bihar elections," he tweeted with the hashtag in Hindi 'Aaj Badlega Bihar'.
The Model Code of Conduct prevents politicians and political parties from seeking votes on the day of polling.
Also read: Why jobs could override caste by small margin as Bihar votes in phase I
The Bihar elections are being held in three phases — October 28, November 3 and November 7. The results will be out on November 10.
On Wednesday, polling began in seventy-one constituencies at 7am. Over 1,000 candidates are in the fray. This election is India's first after the outbreak of coronavirus pandemic in March. The election commission has directed all polling booths to follow Covid-19 guidelines during voting and counting of votes.
The opposition grand alliance comprising the RJD, Congress, CPI, CPI(M) and CPI(ML) will take on the ruling NDA comprising the JD(U), BJP, Vikassheel Insaan Party and Hindustani Awam Morcha. RJD's Tejashwi Yadav is the opposition Mahagathbandhan's chief ministerial candidate while chief minister and JD(U) president Nitish Kumar will fight for the ruling alliance to keep his post.