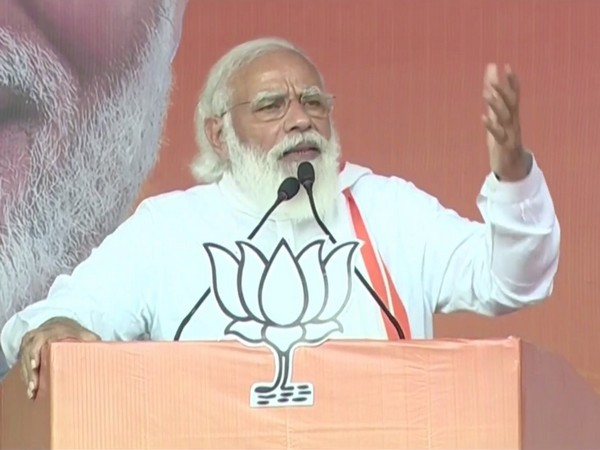 Prime Minister Narendra Modi on Tuesday (November 3) asserted that Bihar is going to re-elect the NDA government. He addressed a gathering at Forbesganj during his fourth visit to the state for the Assembly polls.
Voting for 94 of the 243 Assembly seats of the state took place in the second phase of polls on Tuesday.
"Bihar has given a clear message, on the basis of the initial information we're getting, that the state is set to re-elect the NDA government. Voters here have decided they'll take the state to newer heights," Modi said.
Taking potshots at the Opposition, Modi said the NDA is dedicated towards working for the people while all the Opposition wants is to pursue dynasty politics.
"Some people have a problem… they say 'why does Modi win elections?'… Modi wins elections because he works to resolve the issues of all the (poor) mothers and sisters… That's why, they bless Modi… This son has dedicated his life for the poor," the prime minister said.
"Allies of jungle raj in Bihar have a problem with Bharat Mata Ki Jai, Jai Shri Ram. In an auspicious land where Goddess Chhathi is worshipped, is it possible that people won't chant for the nation?" he said in a veiled dig at the Congress and the Left.
'Congress doesn't even have 100 seats in Parliament'
In a sharp swipe at the Congress, Modi said the party doesn't even have 100 members in both the Houses of the Parliament combined.
"Today the Congress is in such a state that if you add the Lok Sabha and Rajya Sabha, they don't even have 100 MPs," he said.
Using his 'double yuvraj' jibe, an answer to RJD's Tejashwi Yadav's 'double-engine' swipe at the BJP-JD(U) combine, Modi said both Rahul Gandhi and Tejashwi have been rejected by the state.
"Bihar can never forget the day when they (RJD) had made a mockery of the elections. All over, there was violence, killings took place, there was booth-capturing. The right to vote was snatched from the poor. In the name of jungle raj, votes were looted. The NDA has returned the dignity to the poor," he said.
Modi, however, made no mention of LJP chief Chirag Paswan, who recently broke away from the NDA and is suspected to be BJP's B-Team.
The prime minister has held 12 rallies in the state so far, while sharing the stage with chief minister Nitish Kumar.
The last of the three-phase election will be held on Saturday. The votes will be counted on November 10.