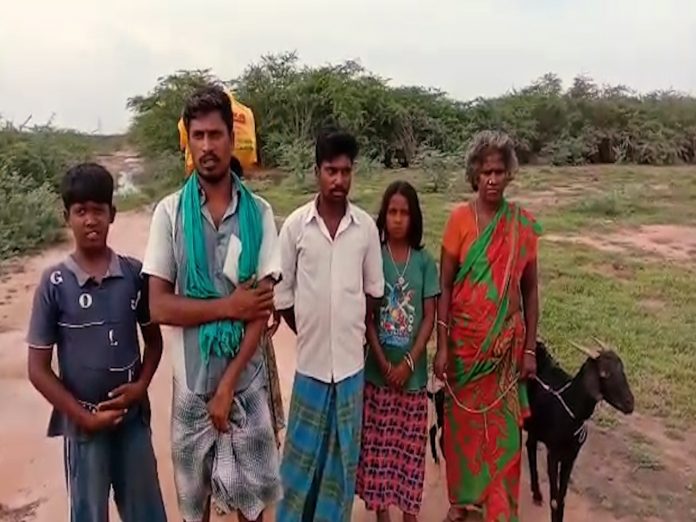 Three days ago, M Raja of Ulakudi village in Virudhunagar district of Tamil Nadu held his eight-year-old daughter in one hand and his livestock, a goat, in another, and walked into a nearby forest in Tiruchuzhi to 'save his life and that of his family.'
Raja is a barber belonging to Navithar caste (most backward community). He is now running for his life only because he treated both the dominant caste (Thevar) men and Dalit men equally in his salon.
Three years ago, after the demise of his father-in-law, Raja took up the profession and set up a salon in the village. Unlike his father-in-law, who used to go door-to-door, Raja decided he will invite people at his shop for a haircut.
Advertisement
Raja, who worked in Malaysia before returning to the village, would not differentiate among his clients on the basis of their caste or religion. However, the dominant caste opposed Dalits getting a hair cut in the same place.
Raja found it surprising. "I seriously did not know what's wrong in making the Dalits sit on the chair and get a hair cut? The main concern of the villagers was that I treated the dominant caste people and Dalits equally," says Raja, who was threatened.
"The dominant caste people frequently warned me and threatened that I would be sent out of the village one day," said Raja.
The people who wanted to outcaste him were waiting for an opportunity to banish him. And they got one when one of Raja's brothers-in-law, a 20-year-old, fell in love with a girl belonging to the dominant caste and eloped with her.
"We had warned him not to do that and since he eloped with the girl despite our warning, we did not support him. The villagers organised a 'panchayat' (Kangaroo court) and asked us to bring him and the girl back. As we were completely unaware of his whereabouts, we said we will search for him and get them back," says Raja.
However, with the help of police, the villagers managed to trace the couple near Tirupur in Tamil Nadu and brought them back. "Since my brother-in-law did not pay heed to our words, we abandoned him and said we should stand by the villagers and not support what he did," said Raja.
Despite that, the village seniors held a kangaroo court to punish Raja's family for treating everyone equally, thus breaking the 'custom' of the village to invite Dalits into his saloon and being party to an inter-caste marriage.
The panchayat ordered a social boycott of the family and the order was communicated to Raja through a village priest.
"Without even letting us explain our side, the village caste panchayat led by the leaders Dhanushkodi, Urangapuli and Thennarasu, all belonging to the dominant caste, ordered a social boycott of us and asked us to leave the village. We were denied water in the public taps and groceries in the shop in our village," claims Raja.
Raja felt that it was unsafe to stay in the village as he was constantly threatened. "I did speak to the village leaders pleading them to allow us to stay in the village, but they said it was the village order and they would not be responsible if anything untoward to me and my family."
Also read: 'Attempt to suppress Dalits': Rahul Gandhi on Hathras girl's cremation
"At the time of leaving the village, my daughter went to purchase a lock for our house, but the shopkeeper did not give it to us, citing the village order," he said.
Now, fearing for life, Raja, his wife Saraswathi, son Ramachandran, daughter Narmadha, mother-in-law Panjavaranam, brother-in-law Balamurugan are staying in the forest.
To make things worse, on Tuesday evening (September 29), Raja's eight-year-old daughter Narmadha was bitten by a snake and she was rushed to a government hospital in Manamadurai. "We do not know whether the snake was poisonous or not, nor do the doctors. She has been hospitalised," Raja said.
Meanwhile, he filed a complaint with the district collector and superintendent of police seeking action against the people who banished them. Senior revenue officials said they would initiate appropriate action once the inquiry is completed.