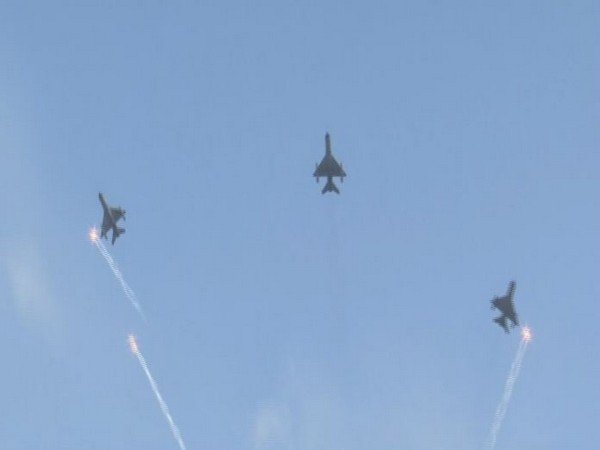 Balakot hero Abhinandan leads MiG-21 Bison aircraft on Air Force Day
On the occasion of the 87th birth anniversary of the Indian Air Force (IAF), two squadrons of the IAF, which played a role in the Balakot air strike, were decorated with citations at the Hindon base on the 87th IAF Day, on Tuesday (October 8).
IAF chief Rakesh Kumar Singh Bhadauria decorated the 51 Squadron and the 9 Squadron for their role in the air strike on terrorist camps in Pakistan's Balakot in February.
Also read: Abhinandan Varthaman's squadron to be awarded for foiling Pak attack
As part of the celebrations, several aircrafts were showcased. Wing Commander Abhinandan Varthaman and fighter pilots, who were a part of the Balakot operation, participated in the flypast. It is to be noted that Varthaman downed an enemy jet during an aerial combat and was held captive for three days.
Similarly, three Chinook transport helicopters flew in 'Chinook formation' at Hindon Air Base. 3 Mirage 2000 aircraft and 2 Su-30MKI fighter aircraft were also flown in 'Avenger formation'. It is to be noted that, planes were being flown by pilots who took part in Balakot air strike.
Also read: Shooting down chopper on Feb 27 was 'big mistake', says IAF chief
Addressing the IAF personnel and their families at the Hindon Air Force station in Ghaziabad, the Air Chief Marshal  called upon his force to be alert at all times amid the "present security environment in the neighbourhood". He added, "Air Warriors should serve with great integrity at all times."
"Indian Air Force is grateful for nation's trust and confidence in us and the support provided. On behalf of all air warriors, I assure the nation of our sacred resolve, defending the sovereignty of our skies and safeguarding our national interest at all cost," he said.
President Ram Nath Govind also wished IAF for their endless efforts in safeguarding the nation, through Twitter.
Prime Minister Narendra Modi, congratulated the IAF, saying, "Today, on Air Force Day, a proud nation expresses gratitude to our air warriors and their families. The Indian Air Force continues to serve India with utmost dedication and excellence."
Union Home Minister Amit Shah and law Minister Ravi Shankar Prasad took to Twitter to wish the IAF.
According to a defence spokesman, the Air Force station in Jammu organised a wreath-laying ceremony on the 87th IAF Day. Air Officer Commanding, Air Force Station Jammu, Air Commodore Ajay Singh Pathania paid tributes to soldiers killed in the line of duty. The spokesman said the event organised at the stations war memorial here was attended by IAF officials and air veterans.
Every year, the Air Force Day is celebrated at Hindon base in presence of the IAF chief and senior officials of the three armed forces. The IAF was founded on October 8, 1932, and the force has participated in several crucial wars and landmark missions. Incidentally, the day also coincides with the day India is all set to get its first Rafale jet from France.
Also read: Rajnath Singh to perform Shastra Puja after receiving first Rafale jet
Defence Minister, who is in Paris is scheduled to take delivery of the multirole fighter. Wing Commander Abhinandan Varthaman leads a 'MiG formation' and flies a MiG Bison Aircraft at Hindon Air Base.